Full cast announced for Miss Saigon
by Oliver Mitford on Monday 27 January 2014, 3:32 pm in Cast Changes and Announcements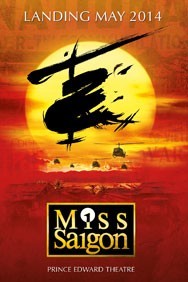 Full casting has been announced for producer Cameron Mackintosh's eagerly awaited West End revival of Miss Saigon, which opens at the Prince Edward Theatre on 3 May 2014, 25 years after its original London debut.
The international cast includes, Eva Noblezada as Kim, Alistair Brammer as Chris, Jon Jon Briones as The Engineer, Tamsin Carroll as Ellen, Rachelle Ann Go as Gigi and Hugh Maynard as John.
Miss Saigon is written and composed by Alain Boublil and Claude-Michel Schonberg, the same duo that created Les Miserables. The musical reimagines the story of Madam Butterfly and sets the action in the war-torn Vietnam of 1975, where during the final days of the American occupation, a local prostitute fall in love with an American G.I. Their two very different cultures clash as they fight for each other and their lives.
Directed by Laurence Conner, who reconceived the show for its UK and international tour and also recently restaged Les Miserables for its 25th anniversary tour, this new production of Boublil and Schönberg's epic musical bring to the life once more the show that has played in 300 cities in 15 different languages and won awards around the globe.
The original production was produced by Cameron Mackintosh at London's Theatre Royal Drury Lane 25 years ago and was directed by National Theatre artistic director Nicholas Hytner. It ran for a record breaking 11 years from 1989 to 1999.
Back in September 2013, Miss Saigon brook the record for the biggest single day of ticket sales in West End and Broadway history, so get booking in order to secure tickets for this much anticipated production!