Korean Star to play Thuy in Miss Saigon
by Oliver Mitford on Friday 7 February 2014, 8:25 am in Cast Changes and Announcements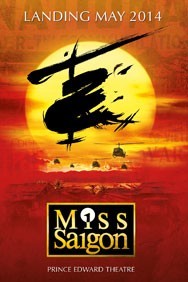 It has been announced that the final unknown casting choice for Cameron Mackintosh's new production of Miss Saigon due to open at the Prince Edward Theatre on the 3 May 2014 is none other than Korean mega-star Kwang-Ho Hong. This solo artist regularly sells out giant arenas in his native Korea and is also known as one of the top musical theatre performers in Korea, with credits that include Raoul and The Phantom in The Phantom of the Opera, ", Dr. Henry Jekyll & Edward Hyde in Jekyll and Hyde and Man of La Mancha.
Kwang-Ho Hong joins the previously announced Jon Jon Briones as The Engineer, Eva Noblezada as Kim, Alistair Brammer as Chris, Tamsin Carroll as Ellen, Hugh Maynard as John and Rachelle Ann Go as Gigi.
And now, the all important ensemble cast has also been announced; they include: Julia Abueva, Natalie Chua, Jon-Scott Clark, Jenny Ding, Dale Evans, Callum Francis, Ashley Gilmour, Maria Graciano, Simon Hardwick, Jack Harrison-Cooper, Matthew Jeans, Kurt Kansley, David Kar-Hing Lee, Kittiphun Kittipakapom, Mitch Leow, Ela Lisondra, Carolyn Maitland, Tanya Manalang, Christian Rey Marbella, Kanako Nakano, Thao Therese Nguyen, Saori Oda, Ariel Reonal, Jon Reynolds, Romeo Salazar, Jordan Shaw, Marsha Songcome, Eloisa Amalia Tan, Christian Tanamal, Thao Vilayvong, Amadeus Williams and Gerald Zarcilla.
This epic love story of Miss Saigon tells the tragic tale of young bar girl Kim, orphaned by war, who falls in love with an American GI called Chris - but their lives are torn apart by the fall of Saigon and the differences in cultures.
Tickets are selling a record speed so get booking in order to secure your seats for this unmiscible production!