Full cast announced for Made in Dagenham
by Oliver Mitford on Monday 30 June 2014, 2:38 pm in Cast Changes and Announcements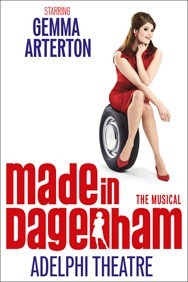 The full cast for the much-awaited new British musical Made in Dagenham was announced last week. Based on the 2010 feature film of the same name, Made in Dagenham opens at the Adelphi Theatre on 5 November 2014, with previews starting from 9 October.
Joining the previously announced Gemma Arterton and Adrian der Gregorian are Sophie-Louise Dann, Steve Furst, Mark Hadfield, Sophie Stanton, Heather Craney, Naomi Frederick, Sophie Isaacs and Julius D'Silva.
The show tells the funny and touching story of the 1968 Ford sewing machinists strike and follows the trials and tribulations of the women who walked out of the Dagenham car factory in protest against unequal pay.
Richard Bean writes the production's book, with music by David Arnold and lyrics by Richard Thomas.
After a spate of early closures for new musicals in London's West End, Made in Dagenham's director Rupert Goold was asked in a press conference if he was apprehensive about the production, he responded: 'We have in this show some of the best original music around and a cracking script and to know that it will be performed by this multi-talented, wonderful, diverse, rowdy bunch of actors makes me keener than ever to get into the rehearsal room'. Fighting talk from the captain at the helm of this brand new British musical.
Made in Dagenham begins previews at the Adelphi Theatre from 9 October 2014, with opening night set for fireworks night on 5 November 2014.