Will Made in Dagenham break the curse?
by Oliver Mitford on Monday 11 August 2014, 3:35 pm in Show of the Month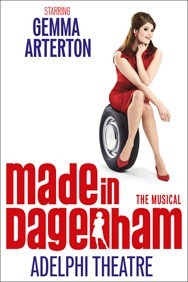 Made in Dagenham is due to open its doors to the public very soon, but new musicals seem cursed on the West End. Can this one buck the trend?
New musicals have had their fair share of bad luck over the past few years with a spate of baffling closures. Andrew Lloyd Webber's swinging sixties' musical Stephen Ward lasted just four months on London's West End; this was only slightly bettered by Sir Tim Rice's From Here To Eternity, which closed after a mere six months.
Harry Hill's X Factor parody, I Can't Sing, fared even worse when notices were posted after a pitiful two months. But at the bottom of the pile was The Full Monty, which –despite glowing reviews – closed after just five weeks! So if these are anything to go by, then the producers of new musical Made in Dagenham must be quaking in their tap shoes . . . or are they?
The show's creators might be feeling a little nervous, but with the brains behind the National Theatre's smash hit One Man, Two Guvnors, writer Richard Bean, taking the creative lead and Jerry Springer The Opera lyricist Richard Thomas collaborating with Bean to write the musical, the likelihood of another West End flop is anything but assured.
Also, Made in Dagenham's director Rupert Goold has a track record that gleams with both commercial and critical success. His revival of Lionel Bart's Oliver! at the Theatre Royal Drury Lane was a sold-out hit. More recently, his production of new musical American Psycho opened at the Almeida Theatre to five-star reviews across the board, so it appears that the production is in a pair of very safe hands.
What's more, British stage actress-turned-Hollywood megastar Gemma Arterton is signed up to star for six months, almost guaranteeing good audience numbers. Arterton is best known for her film roles in St Trinian's, James Bond: Quantum of Solace, Prince of Persia: The Sands of Time, and the Stephen Frears's film Tamara Drewe. Having trained at the Royal Academy of Dramatic Art, Arterton is no stranger to the stage. In July 2007, she made her professional stage debut as Rosaline in Love's Labour's Lost at the Globe Theatre. In 2010, she made her West End debut in the UK premiere of The Little Dog Laughed alongside Tamsin Greig. Most recently, she returned to the Globe to play the title role in John Webster's The Duchess of Malfi.
A big name in the cast and a hugely talented creative team is not enough to secure a long-running West End hit. What is needed is a story that will make people laugh, pull on the heartstrings and ultimately move an audience. Made in Dagenham seems to be starting with the right raw materials for just such a story. It is based around the real-life events of the Ford sewing machinists' strike of 1968, which saw women sewing machinists walk out of the Ford Motor Company's Dagenham plant in protest at being paid 15% less than their male counterparts.
The strike began on 7 June and because the women made car seat covers, stock ran out and put a halt to all car production. The Secretary of State for Employment at the time, Barbara Castle, intervened and the strike ended three weeks later securing the woman a pay rise and eventually resulted in the Equal Pay Act of 1970.
The story has already received one successful outing in the form of the BAFTA Award-winning 2010 film that stared Sally Hawkins, Bob Hoskins, Miranda Richardson, Rosamund Pike, Andrea Riseborough and Jamie Winstone. The plot of the film forms the basis of Made in Dagenham, the Musical as we follow factory worker Rita O'Grady, who, on learning of the pay difference between men and women, leads her friends and fellow factory workers in a battle against the might of Ford and the corrupt union that is supposed to protect them. But when the pressure mounts and the strike gets out of hand, Rita stands to loose everything.
The journey from page to stage for Made in Dagenham started back in December 2011, when a reading took place followed by two workshops with Gemma Arterton playing Rita. Feedback from the workshops was excellent and on 3 March 2014 it was confirmed that the show would premiere in London in the autumn of this year. Alongside the creative talents of director Rupert Goold, writers Richard Bean and lyricist Richard Thomas, it was announced that Olivier Award-winning set and costume designer Bunny Christie, lighting designer Jon Clark and BAFTA and Grammy award-winning composer David Arnold would be joining the team.
Made in Dagenham has everything going in its favour. A great tried and tested story, star casting, a world-class creative team, and a state-of-the-art West End venue. Now all that is needed is rave reviews from both the audience and critics and Made in Dagenham might just stand a fighting chance, but as can be seen from the recent West End closures, nothing in Theatreland is ever certain and, in the end, it comes down to luck. Let's hope the fates are on their side.
Made in Dagenham begins previews at the Adelphi Theatre from 9 October 2014, with opening night on the 5 November 2014.