New Cast for Les Miserables
by Oliver Mitford on Tuesday 19 May 2015, 8:35 am in Cast Changes and Announcements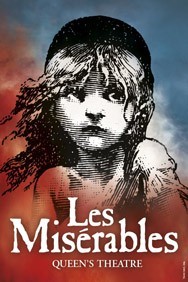 Now in its astonishing 30th year in London's West End, Les Miserables has announced five brand new cast members to join the record-breaking production at the Queen's Theatre from 15 June 2015.
Rachelle Ann Go, star of Cameron Mackintosh's smash-hit production of Miss Saigon will take over the role of Fantine. Katy Secombe will play Madame Thenardier, alongside Phil Daniels as Thenardier. Jeremy Secomb takes over as Javert and Zoe Doano plays Cosette.
The new cast members will be joining the continuing cast of Rob Houchen as Marius, Peter Lockyer as Jean Valjean and Carrie Hope Fletcher as Eponine. Bradley Jaden, a new musical theatre rising star, will step out of his ensemble shoes to play the role of Enjolras.
Les Miserables tells the epic story of ex-convict Jean Valjean and his journey of redemption, set against the dramatic backdrop of revolutionary France. Boublil and Schonberg's soaring musical has now been seen by more than 70 million people in 43 countries around the world and has been translated into 22 different languages.
Les Miserables features the iconic songs 'Bring Him Home', 'One Day More', 'On My Own' and the now world famous 'I Dreamed A Dream'.
Catch the new cast in action from 15 June 2015 at the Queen's Theatre.