The Ladykillers makes a welcome return to the West End this summer!
by Oliver Mitford on Monday 20 May 2013, 1:25 pm in Upcoming and New Shows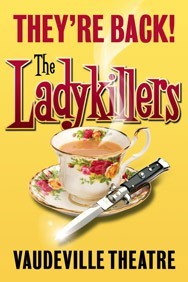 Graham Linehan's stage adaptation of the world-famous Ealing Comedy, The Ladykillers, has already seen West End success when it played to packed houses every night at the Gielgud Theatre almost a year ago, before embarking on an extensive national tour. Now it's hoping to light up the West End once again; this time at the Vaudeville Theatre, opening on 29 June.
The Ladykillers is a cheekily funny black comedy that sees a gang of fraudsters, crooks and lowlifes, led by the deceptively auspicious Professor Marcus, rent rooms in the home of the kind, but eccentric, Mrs Wilberforce. The gang of villains plots to involve her unwittingly in their long-planned heist, which leaves the police stumped. But age and appearance can be quite deceptive as Mrs Wilberforce cottons on to their dastardly plan and hatches one of her own...
Directed by the much-respected and obviously talented Sean Foley, whose other work includes The Play What I Wrote on the West End and his RSC debut A Mad World, My Masters. You can expect laughs a minute and ones that will have the whole audience rolling in the aisles.
It features a stellar cast of some of the finest comedy actors including Simon Day, Ralf Little, Con O'Neill, John Gordon Sinclair, Chris McCalphy and Angela Thorne as the sweetly innocent – but not so naïve – Mrs Wilberforce.
This classic British comedy had audiences laughing out loud night after night last year and on its tour, but now it's the chance for the West End audiences to get their share once again of the hysterical fun that is The Ladykillers.