King Charles III to transfer to Wyndham's Theatre in the Autumn
by Oliver Mitford on Wednesday 28 May 2014, 10:54 am in Upcoming and New Shows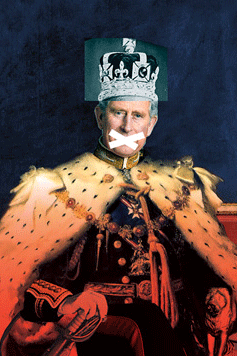 The Almeida Theatre has announced the West End transfer of its critically acclaimed play King Charles III. The production will open on 11 September 2014 with previews from 2 September and will run until 29 November 2014.
The news of this current transfer marks the fourth production this year to make the leap from the small Almeida theatre to the bright lights of London's West End. King Charles III will follow 1984 (still playing to packed houses at the Playhouse Theatre), the Olivier Award-winning Ghosts and Chimerica.
Written by Mike Bartlett and directed by the Almeida Theatre's artistic director Rupert Goold, King Charles III is a hilarious and daring state of the nation political thriller set a few years in the future, as the Royal family regroups after the death of Elizabeth II.
Tim Pigott-Smith will once again take the title role as Charles III and will be joined by Richard Goulding, Nyash Hatendi, Tom Robertson, Nicholas Rowe, Tafline Steen, Adam James, Margot Leicester, and Lydia Wilson.
The announcement comes as the Almeida also reveals its new season, which includes the world premiere of Little Revolution by Alecky Blythe, directed by Joe Hill-Gibbins, and then a revival of Thornton Wilder's 1938 drama Our Town.
Going off the fact that the Almeida Theatre run of King Charles III sold out in the first few days, book early for the West End run at Wyndham's Theatre!