Jude Law takes to the stage for the opening night of Henry V
by Oliver Mitford on Tuesday 3 December 2013, 10:08 am in Upcoming and New Shows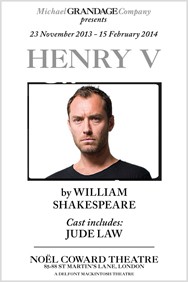 Tonight, Jude Law takes to the stage for the opening night of Henry V at the Noel Coward Theatre. This production marks the final installment from the Michael Grandage season and reunites director Grandage with Law, having previously worked together on the acclaimed production of Hamlet at the Wyndham's Theatre back in 2009. However, this time the pair takes on Shakespeare's patriotic history play about the warrior-king. The play is a vivid depiction of the horrors of war and tells the story of King Henry V as he leads the English to victory at Agincourt, but also falls in love with the French Princess, Katherine.
Jude Law is following in the footsteps of some of our greatest actors, with the role having passed from Laurence Olivier to Kenneth Branagh and now to Law. When asked about this passing of the baton Law said, 'There's a great sense of pride that you're stepping into the shoes of some really extraordinary actors who have played this part and spoken these wonderful words before. That's part of the reason I enjoy taking on this type of role — the fear factor and the pressure factor. It forces you to raise your game'.
When asked about his preparation for the role he said, 'I explored the qualities of leadership demonstrated by Henry as he leads the English forces into battle against the French by talking to former England rugby captain Lawrence Dallaglio, and I read books on everyone from President John F Kennedy to Winston Churchill. It's my job to try and get as much information to feel like what it might be to be that man. But with something as well-written as this, an awful lot of what I have to do is on the page.'
Now 40 years old, Law received huge critical acclaim for his work in the revival of Eugene O'Neill's intense drama Anna Christie at the Donmar Warehouse last year and can currently be seen on the big screen as criminal mastermind Dom Hemingway.
Henry V runs until 15 February 2014. This is a very limited run and if the production is anything like its predecessors in the Michael Grandage season, it is sure to be the hottest ticket in London, so get booking!