The Importance of Being Earnest Review
by Phil Willmott on Wednesday 23 July 2014, 8:29 am in London Theatre Reviews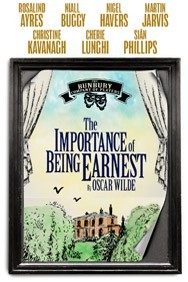 This was a very strange evening indeed. My curiosity was piqued when the cast was first announced and it was noticeable that all the actors were too old to be playing this comedy of young lovers clashing with a formidable aunt.
In fact that's the point of this bizarre production; middle-aged & elderly actors, in some cases great middle-aged & elderly actors, several of whom found success in the play when younger, appear as an ageing amateur theatre group putting on THE IMPORTANCE OF BEING EARNEST. This fictional am-dram society, the Bunbury Players, have been performing Oscar Wilde's classic comedy for years justifying why everyone's so ancient. We're watching a rehearsal of the latest incarnation of a production they've been doing for decades.
I can see how this must have seemed like a good idea. Experienced actors with a lifetime's experience would bring new poignancy to the twittering young characters and we'd have a chance to see them recreate their glory days. For instance Sian Phillips has played the star role of Lady Bracknell a number of times before but now aged 80 it would be illogical for her to play the mother of a girl juggling marriage proposals. Nigel Havers and Martin Jarvis, now in late middle-age, very successfully played the young male leads in a celebrated National Theatre production in 1982 but back then they were convincing as 29 year olds, now they sound a bit creepy as they obsess over young women.
It's true that the elderly cast do make you think about how our attitudes to love change as we get older and it is great to see Phillips, Havers and Jarvis deliver the sparkling dialogue with such experienced aplomb but the trouble is none of that is as hilarious and delightful as seeing a really good, conventional revival of the play. The whole production is so odd that it stops it being funny and THE IMPORTANCE OF BEING EARNEST is usually a very funny play indeed.
Perhaps it would have been more fun if the prologue, in which we meet the feuding am-dram performers, resulted in a few more comic mishaps throughout, as in the hit backstage comedy NOISES OFF but the idea sort of fizzles out and once they start delivering Oscar Wilde's lines the framing device is bewilderingly forgotten. For example, Niall Buggy whose character has been drinking heavily in the opening scene goes on to play a loveable old vicar completely sober.
Anyway, production gimmicks aside, the silly plot that usually so delights concerns the lengths young lovers must go to maintaining the little lies they have concocted to win their loved one. Events are presided over by the magnificent Lady Bracknell whose withering reactions to the mayhem are legendary, especially in a much loved scene in which she struggles to comprehend the idea that her daughter's suitor was found abandoned as a baby, in a handbag at Victoria Station.
The late, great Edith Evans gave a celebrated performance in which she incredulously delivered the words "a handbag" with such depths of Wagnerian disapproval that it's still imitated over half a century later. You can probably track down the black and white film of this production, well worth a look not only for Evans but the precise comic timing of Sir John Gielgud as the unfortunate subject of her cross-examination.
It's unlikely this production, conceived and directed by Lucy Bailey, will be as celebrated. In fact I imagine the terrible reviews will mean it closes pretty quickly and I doubt anyone will mourn its passing. But perhaps the cast and director will tweak things a little to improve it. In one of the first reviews to appear the Guardian's Theatre Critic, Michael Billington, was appalled at the crude slapstick way Jarvis made one of his entrances. The next night, when I reviewed it, this had been cut.
On the positive side the director's husband, the celebrated designer William Dudley has designed a beautiful Arts and Crafts style set to represent the living room in which the amateurs are rehearsing.
Sian Phillips and Martin Jarvis are undeniably two of this country's finest actors, it was particularly good to see Jarvis back in action with his rich, endlessly nuanced voice but I'd recommend you wait and go and see them in something else.