Pinter's The Homecoming comes to the West End in November
by Oliver Mitford on Thursday 1 October 2015, 12:25 pm in Upcoming and New Shows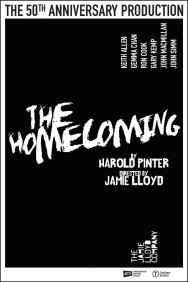 Harold Pinter's 1965 Tony Award winning play The Homecoming is set for an all-star revival at the Trafalgar Studios, opening on the 14 November 2015 and running for a strictly limited limited 12 weeks.
Directed by Jamie Lloyd, the production will mark the 50th anniversary of the award-winning play.
Heading up the cast of six is John Simm as Lenny, Garry Kemp as Teddy, Keith Allen as Sam, Gemma Chan as Ruth, John Mcmillan as Joey and Ron Cook as Max.
The Homecoming tells the story of Teddy, the eldest of three brothers who returns to London after six years away from home in the USA. Teddy's wife Ruth is suddenly the subject of fierce rivalry between Teddy's brothers and father. This competition for Ruth's affections brings the family unit to the brink, their psychological game playing escalating out of all proportion.
Lloyd's long-term collaborator Soutra Gilmour will design The Homecoming, along with lighting designer Richard Howell and sound designer George Dennis.
Lloyd said in a statement on the announcement of the production 'This is a significant anniversary for this iconic, game-changing play and I couldn't be more excited to be creating it with this dynamic cast of powerful actors. This production is the first project from our company's new and ambitious slate of work that I can't wait to announce over the coming months'.
The Homecoming marks the first production in Jamie Lloyd Production's new season at the Trafalgar Studios, and if the last batch of award-winning revivals and new work was anything to go by, audiences can look forward to a whole host of big names and thrilling nights at the theatre ahead.