New cast and new tickets for West End Production of HARRY POTTER AND THE CURSED CHILD
by Best of Theatre Staff on Wednesday 14 March 2018, 11:17 am in Cast Changes and Announcements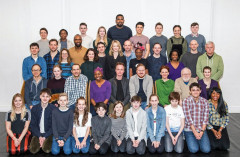 Rehearsals began this week for the third West End cast of Harry Potter and the Cursed Child who will start their performances at the Palace Theatre in London on 23 May 2018 following the final performance from the current cast on 20 May 2018.
Joining the company are Jamie Ballard who will play Harry Potter, Susie Trayling as Ginny Potter and Joe Idris-Roberts as their son Albus Potter. Jonathan Case joins to play Scorpius Malfoy. Thomas Aldridge continues as Ron Weasley as well as Rakie Ayola as Hermione Granger and Helen Aluko as their daughter Rose Granger-Weasley. James Howard also continues as Draco Malfoy.
They are joined by cast members Rosemary Annabella, David Annen, Jordan Bamford, Emma Bown, Adrian Christopher, Craig Connolly, Danny Dalton, Leah Haile, April Hughes, Martin Johnston, Gareth Kennerley, Susan Lawson-Reynolds, Ryan J Mackay, David Mara, Dylan Mason, Barry McCarthy, Sandy McDade, James McGregor, Annette McLaughlin, Tom Peters, James Phoon, Eve Ponsonby, Kate Russell-Smith, Sinéad Sharkey, Amarah-Jae St. Aubyn, Mark Theodore and Joshua Wyatt complete the 42-strong company playing a variety of characters, including seven children who will alternate two roles.
In addition Harry Potter and the Cursed Child Producers Sonia Friedman and Colin Callender today announce that on 5 April 2018 at 11am BST they will release a further allocation of tickets for sale for performances from 16 January 2019 – 7 April 2019. Tickets are priced from £15 per part and for every performance there are over 300 tickets at £20 or less per part. Details of any other ticket releases will continue to be listed on the official website, social media channels and the official newsletter.
Harry Potter and the Cursed Child is the eighth story in the Harry Potter series and the first official Harry Potter story to be presented on stage. The critically acclaimed production received its world premiere in June 2016 at the Palace Theatre in London. Subsequently Harry Potter and the Cursed Child has won twenty-four major theatre awards including the Evening Standard Best Play Award as well as a record-breaking nine Oliver Awards - including Best New Play and Best Director - the most awarded play in the history of the Oliviers. The Broadway production will begin previews at the Lyric Theatre later this week on 16 March 2018 and in early 2019 the Australian production will open at Melbourne's Princess Theatre.
It was always difficult being Harry Potter and it isn't much easier now that he is an overworked employee of the Ministry of Magic, a husband and father of three school-age children. While Harry grapples with a past that refuses to stay where it belongs, his youngest son Albus must struggle with the weight of a family legacy he never wanted. As past and present fuse ominously, both father and son learn the uncomfortable truth: sometimes, darkness comes from unexpected places.
Based on an original new story by J.K. Rowling, Jack Thorne and John Tiffany, Harry Potter and the Cursed Child is a new play by Jack Thorne, directed by John Tiffany with movement by Steven Hoggett, set by Christine Jones, costumes by Katrina Lindsay, music & arrangements by Imogen Heap, lighting by Neil Austin, sound by Gareth Fry, illusions & magic by Jamie Harrison, music supervision & arrangements by Martin Lowe and casting by Julia Horan CDG.
Harry Potter and the Cursed Child is one play presented in two parts. Both parts are intended to be seen in order on the same day (matinee and evening) or on two consecutive evenings. On Thursdays there is an evening performance of Part One and on Fridays an evening performance of Part Two. On those days tickets to each part can be bought together or separately. Tickets for Wednesday matinee and Wednesday evening performances can also be bought together or separately.
The regular performance schedule is as follows - Monday – no performance, Tuesday – no performance, Wednesday - 2pm Part One & 7.30pm Part Two, Thursday – 7.30pm Part One, Friday – 7.30pm Part Two, Saturday – 2pm Part One & 7.30pm Part Two, Sunday – 1pm Part One & 6.30pm Part Two.