West End production of HARRY POTTER AND THE CURSED CHILD opens bookings to September 2019
by Best of Theatre Staff on Tuesday 4 December 2018, 10:06 am in West End News & Gossip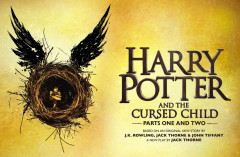 As footage of the internationally award-winning production is released (see link below), new tickets for the West End production of Harry Potter and the Cursed Child go on sale today (4 December 2018) at 11am GMT for performances at the Palace Theatre until 29 September 2019. Tickets are priced from £15 per part and for every performance there are over 300 tickets at £20 or less per part.
Harry Potter and the Cursed Child, one play presented in two parts, is the eighth story in the Harry Potter series and the first official Harry Potter story to be presented on stage. The critically acclaimed production received its world premiere in July 2016 at the Palace Theatre in London. It is also now playing at the Lyric Theatre on Broadway, with an Australian production beginning performances at Melbourne's Princess Theatre on 16 January 2019. A further North American production will open at San Francisco's Curran in Autumn 2019 and, in spring 2020, a German language version of the play – marking its first non-English language production - will open at the Mehr! Theater am Großmarkt in Hamburg, Germany.
Since its premiere, Harry Potter and the Cursed Child has won twenty-four major British theatre awards including the Evening Standard Best Play Award as well as a record-breaking nine Olivier Awards - including Best New Play and Best Director - the most awarded production in the history of the Oliviers. The Broadway production has subsequently won twenty-five major Broadway accolades, including five Drama Desk awards, six Outer Critics Circle awards and six Tony awards, also including Best Play and Best Director.
Based on an original new story by J.K. Rowling, Jack Thorne and John Tiffany, Harry Potter and the Cursed Childis a new play by Jack Thorne, directed by John Tiffany with movement by Steven Hoggett, set by Christine Jones, costumes by Katrina Lindsay, music & arrangements by Imogen Heap, lighting by Neil Austin, sound by Gareth Fry, illusions & magic by Jamie Harrison,music supervision & arrangements by Martin Lowe.
The Music of Harry Potter and the Cursed Child, an album of music from the internationally acclaimed stage production, is now available in stores as well as digitally. The Music of Harry Potter and the Cursed Child is written, composed, performed and recorded by Grammy and Ivor Novello Award-winner Imogen Heap. It is presented as four contemporary musical suites, each showcasing one of the play's theatrical acts. This unique new album format from Imogen Heap chronologically features the music heard in the stage production, further reworked to transport listeners on a sonic journey through the world of Harry Potter and the Cursed Child. The album is released by Sony Music Masterworks.
Harry Potter and the Cursed Child is produced by Sonia Friedman Productions, Colin Callender and Harry Potter Theatrical Productions.
The regular performance schedule is as follows - Monday – no performance, Tuesday – no performance, Wednesday - 2pm Part One & 7.30pm Part Two, Thursday – 7.30pm Part One, Friday – 7.30pm Part Two, Saturday – 2pm Part One & 7.30pm Part Two, Sunday – 1pm Part One & 6.30pm Part Two.
Returned and other late-release tickets may also become available at short notice. These are not guaranteed, but any tickets that do become available will be sold on a first-come-first-served basis, online or in person at the Palace Theatre box office at full price.