GUYS AND DOLLS is heading to the West End
by Phil Willmott on Wednesday 24 June 2015, 5:36 pm in Upcoming and New Shows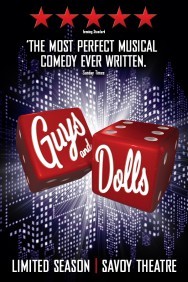 I'm so excited that GUYS AND DOLLS is heading to the West End in a revival of the recent, critically acclaimed Chichester Festival Theatre production.
If anyone asks me my favourite musical of all time it's this show. Mark Shenton writing in The Stage recently agrees. Sondheim's SWEENEY TODD maybe intellectually superior, WEST SIDE STORY more romantic but for the full package in which every joke is funny, and every song glorious you can't beat this Broadway classic.
Here's how the current publicists describe the plot-
"Nathan Detroit is desperate: he needs money for an illegal dice game, and he needs it fast. Not to mention a 14-year engagement with nightclub singer Miss Adelaide (Sophie Thompson), whose patience is finally running out. Enter notorious gambler Sky Masterson (Jamie Parker), a guy who can never turn down a bet, and straight-laced missionary Sarah Brown, a doll with a heart of ice. Nathan's wager is that Sky has to romance Sarah by taking her to Havana for dinner and in return he'll provide a dozen 'sinners' for Sarah's mission. Surely this is one bet Nathan absolutely can't lose?"
They don't mention the incredible songs including LUCK BE A LADY, I'VE NEVER BEEN IN LOVE BEFORE, IF I WERE A BELL, TAKE BACK YOUR MINK and the greatest show tune ever written, guaranteed to raise the roof SIT DOWN YOU'RE ROCKING THE BOAT.
Back in the eighties when serious theatres thought musicals beneath them it caused a sensation when revived by Richard Eyre at the National Theatre with a seminal design by John Gunter representing Time Square in a blaze of white neon. It had a fantastic cast including Bob Hoskins, Julia McKenzie, Tim Healey and Ian Charleston who applied all the their considerable acting skills to bringing the colourful cast of characters to dynamic new life. An exuberance you can feel in the terrific cast recording that's still available.
I saw Eyre's production as a teenager and couldn't imagine anything more joyful and I went to the touring version over and over again when it came to the Bristol Hippodrome dragging anyone who'd listen with me.
Superstar director Michael Grandage also loved this version as a kid and he directed an equally successful if grittier production twenty years or so later in the West End which had the distinction of featuring Ewan McGregor in his first musical theatre role.
Personally I didn't enjoy how some of the cartoon exuberance had been turned down and I'm very excited to hear this new version has reinstated all the musical comedy fun.
I'm a little disappointed that they haven't secured the brilliant Peter Polycarpou to reprise his performance as Nathan but perhaps they will yet as no one else has been announced for the role. However it's great news that Sophie Thompson and Jamie Parker will reprise their roles as Miss Adelaide and Sky Masterson.
The production is directed by Gordon Greenberg with choreography by Carlos Acosta and Andrew Wright. Musical direction is by Gareth Valentine with design by Peter McKintosh.