Review of Great Britain
by Phil Willmott on Monday 6 October 2014, 3:16 pm in London Theatre Reviews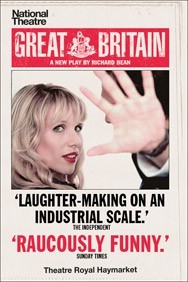 Wow! What a massive disappointment this latest revival of GREAT BRITAIN, a new satire by Richard Bean, directed by Nicholas Hytner, turns out to be; particularly after the pair's international triumph with the Goldoni comedy, One Man Two Guvnors.
Whilst the trial of former News of the World editor Rebekah Brooks was dominating the headlines the two were secretly rehearsing a comedy that dramatised and explored the practice and ethics of "phone hacking". Brooks was accused of authorising journalists to tap in and listen to the private voice-mail messages of celebrities and, more controversially, a teenage murder victim.
Announcement of the production was delayed until the case was settled and then the play was carefully scrutinised for libel. It neatly sidesteps actually libelling Brooks by sharing elements of her story between two characters, a new Brooks-a-like editor and a feisty, ethically challenged reporter.
Now I can quite see that it must have been a riot, in the white heat of the world's incredulity at Brook's acquittal, when much loved TV star Billy Piper stepped out on to the National Theatre stage, representing her and charmed a press night audience of VIPs and journalists for whom it all had great relevance. But a few months down the line the production has transferred to the Haymarket Theatre, nobody cares about Brooks any more and Piper has been replaced by the uncharismatic Lucy Punch, with a few limp TV credits to recommend her. What's left to be excited about?
I'm afraid to say, very little. Drained of topicality and without a star it's just a limp sitcom that rehashes what we know about tabloid journalism and the politics of power. We've seen it all before in Drop the Dead Donkey, The News Room, The Thick of It etc, even way back in the 1930's there were satires like The Front Page, brilliant comedies that have tackled the themes of GREAT BRITAIN previously and better. All readily available to down load for a few pounds. Why pay £50 to see a rehash on stage? Yes, there are a few good cracks about political correctness but you already know its excesses make people ridiculous, right?
The plot, should you care, concerns how ruthlessly ambitious journalists and holders of public office are tripped up when it's discovered how easy it is to listen to and report on peoples voice mail messages. Those who manipulate this to serve their own ends are caught out and their punishment is defined by how powerful their friends are. So the Brooks figure gets away with it because of her association with a Rupert Murdoch figure, allegedly mirroring real life events.
The set is a cheap and ugly series of sliding projection panels that define location or display very obvious parodies of newspaper front pages.
Jokes which I'd heard went down a storm at the National Theatre came and went at the Haymarket with little audience reaction as the evening drained slowly of fun, colour and energy.
A vast cast are employed to rush around doing very little; it must be as unsatisfying to perform as it is to watch. There are some premiere league actors in the mix, playing two dimensional characters, chipping in a few lines here and there. No wonder their performances get broader and broader as the show progresses and they struggle and fail to illicit the same kind of euphoric response the piece originally enjoyed.
If the idea that journalists, public figures and politicians are fallible comes as a surprise to you then book for a revelatory evening. But unless you're an alien visiting Earth for the first time or you've never watched TV or read a paper I can't see why this is worth your time and money. It should have remained a glorious memory for those in on the joke at the National not exported to limp to a slow miserable death in the West End.
If you're in the mood for some edgy, highly imaginative, truly surprising & topical social comment on our world then I recommend TEH INTERNET IS SERIOUS BUSINESS at the Royal Court Theatre. It examines the extraordinary impact a group of isolated computer geeks make as they hack into websites of powerful organisations like the FBI and how this on-line glory is a sad contrast with their rather pitiful real lives.
What's more the cyber world they inhabit, which could have also been lazily portrayed with projection, is instead realised in such a low tech, cartoon style way that it had some of the press night audience planning an early exit at the interval. Leaving would prove to be a big mistake as the second half pulled all the anarchy together into hard hitting, shocking revelations about who's really pulling the strings out there.