Full Cast Announced for GREASE Tour
by Best of Theatre Staff on Thursday 11 April 2019, 10:36 am in Cast Changes and Announcements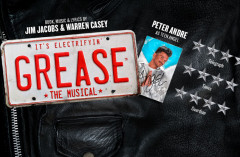 The producers of the 2019 UK and Ireland tour and first new production in 25 years of Jim Jacobs & Warren Casey's iconic musical GREASE are delighted to announce that Dan Partridge, Martha Kirby, Louis Gaunt and Rhianne-Louise McCaulsky will star as Danny, Sandy, Kenickie and Rizzo respectively. They join the previously announced Peter Andre playing Teen Angel at most performances.
Dan Partridge most recently played Rum Tum Tugger in Cats (International Tour), Link in Hairspray (UK Tour) and Pepper in Mamma Mia! (Novello Theatre). Martha Kirby will be graduating for the Guildford School of Acting this summer, 2019, and makes her professional debut as Sandy. Louis Gaunt recently played Will Parker in Oklahoma!(Grange Park Opera), for which he won the 2018 The Stage Debut Award for Best Actor in a Musical, and Manfred in Sweet Charity(Nottingham Playhouse). Rhianne-Louise McCaulsky most recently appeared in Bat Out of Hell – The Musical (Dominion Theatre). Prior to that, she appeared in The Book of Mormon (Prince Of Wales Theatre).
Also in the cast are Jordan Abey as Doody, Ryan Anderson as Roger, Damian Buhagiar as Sonny, Eloise Davies as Frenchy, Natalie Woods as Jan, Tara Sweeting as Marty, Dale White as Eugene, Jessica Croll as Patty Simcox, Corinna Powlesland as Miss Lynch, Abigail Climer as Cha Cha, Darren Bennett as Vince Fontaine and Will Haswell as Johnny Casino. Completing the cast are Thea Bunting as Cynthia, Emily Beth Harrington as Carly, Jonathan Hermosa Lopez as Bobby, Dom Hutcheson as Mickey, Ruby May Martinwood as Sofia and Lindsay McAllister as Donna Sue.
Producer Colin Ingram said, "At last a new production of GREASE with a cast who look and dance like they are in high school! It's time to come back to one of the most popular musicals of all time with this new production with grit, energy and sass."
Curve's Artistic Director and director of GREASE, Nikolai Foster, said, "This cast are going to blow audiences' minds with their edge, life-force and sheer exuberance. Just as the 1950s kids who heralded the birth of the teenage movement, these talented young people will breathe new life into this terrific musical."
Choreographer Arlene Philips said, "I'm so thrilled to have the opportunity to choreograph a new production of GREASE. This new production is going to be edgy, vibrant and certainly takes a new look at this very exciting musical. The cast are incredible, many of them fresh out of college and ready to burst onto the stage."
Following a highly acclaimed, sold-out, eight-week run at Curve over Christmas 2016, the tour will open at Leeds Grand Theatre, playing from 19 June to 20 July. GREASE will then play at Cliffs Pavilion, Southend 23 – 27 July, Sunderland Empire 30 July – 3 August, Birmingham Hippodrome 13 – 24 August, King's Theatre, Glasgow 27 – 31 August, Curve, Leicester 3 – 14 September, Bord Gáis Energy Theatre, Dublin 17 – 28 September, New Theatre, Oxford 1 – 5 October, Churchill Theatre, Bromley 8 – 12 October and Wales Millennium Centre, Cardiff 15 – 19 October.
Peter Andre will appear at most performances in Leeds, Southend, Sunderland, Birmingham, Leicester, Dublin, Oxford and Bromley with additional performances just announced in Southend on 26 July (matinee and evening) and Birmingham on 21 and 22 August (all four performances).
GREASE originally opened in Chicago in 1971, followed by a move to Broadway in 1972, where it received seven Tony Award nominations, including one for Best Musical. During the show's eight-year run, at the time, little known actors, including Peter Gallagher, Patrick Swayze and John Travolta, all appeared in the production, with Richard Gere understudying many roles before going on to star as Danny Zuko in the 1973 London premiere.
The 1978 film adaptation starring John Travolta and Olivia Newton John, when adjusted for inflation, is the highest-grossing live action musical of all time and celebrated its 40th anniversary last year. The musical features beloved songs, including Summer Nights, Greased Lightnin', Hopelessly Devoted To You and You're The One That I Want.
GREASE is directed by Nikolai Foster and choreographed by Arlene Philips, with designs by Colin Richmond, orchestrations and musical supervision by Sarah Travis, lighting design by Guy Hoare and sound design by Tom Marshall.
This new production of GREASE is produced by Colin Ingram for InTheatre Productions, Donovan Mannato, William Sinclair, Ricardo Marques, Hunter Arnold and Curve.