The Full Monty Review
by Phil Willmott on Tuesday 4 March 2014, 9:42 am in London Theatre Reviews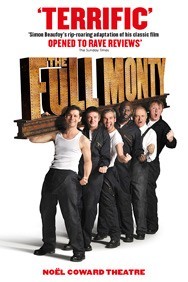 Simon Beaufoy, the Oscar winning writer of the film THE FULL MONTY, has collaborated with Sheffield Theatres to turn his much loved screenplay into a hit stage show. After a triumphant run in its home city and a popular national tour it now lights up the West End with the story of how a bunch of desperately broke and unemployed steel workers become strippers to earn some cash.
It was a tough crowd in and around its current home, the Noël Coward theatre, on Saturday night. Outside there were seemingly endless, drunken football fans chanting aggressively. Inside the women folk, in ill advised, tight, clubbing attire and stick-on, pink bunny ears were eager to ogle some naked men before hitting the clubs.
The trouble was, as anyone who's seen the film knows, you don't see their manhood until the last moment. Would the play be able to hold the attention of these exuberant hen night parties for the two hour build up?
The answer is a resounding "yes" thanks to a pitch perfect production from director Daniel Evans and designer Robert Jones that never puts a foot wrong and indeed seems cleverly conceived to engage a boisterous weekend crowd.
It often feels like it should be a musical (there is a Broadway musical based on the same film) and as we waited for things to get going I was hoping they'd got something more attention grabbing than dialogue to kick things off with and engage the frisky females around me.
The play starts with a spectacular shower of welding sparks, glimpsed through an open door, and the din of a thriving steel works
I needn't have worried. The play starts with a spectacular shower of welding sparks, glimpsed through an open door, and the din of a thriving steel works. A recorded sound montage reminds us of how Margaret Thatcher's inflexible policy brought the industry to its knees. Then the wall and doorway fly up to reveal the derelict workshop after the workforce has been laid off.
This is where the men rehearse their strip routine and where we'll spend the next few hours, with a few detours to some equally depressing environments, including the job centre, setting for a recreation of one of the film's most iconic moments when the men practice their steps in the dole queue. Prince Charles even re-enacted it once.
Rather like a 1980s Magnificent Seven the first part of the story deals with how a disparate group of odd balls come together to take the unlikely decision to become strippers for the night.
Central to this is Gaz who needs to raise maintenance payments and ensure he's allowed to see his son. It's he who notices how much money the Chippendales make from a performance in the town, comes up with the idea of trying to emulate them but with a difference – the local lads will get completely naked where as the visitors have preserved their modesty with a thong.
Kenny Doughty is terrific in this role, sexy and roguish but out of shape enough to convince as an ordinary bloke who's just giving things a go. His best mate is the overweight Dave played by Roger Morlidge and some of the most poignant scenes are where he struggles with low self esteem but reconnects with his wife, during rehearsals. She persuades him that he is sexy to her despite the bulk he's been trying to lose on a series of disastrous diets.
Simon Rouse plays former foreman Gerald who starts off thinking he's a cut above the others but through coaching and then joining them grows to value their friendship.
His strand of the plot is perhaps less credible as we're expected to believe that for the past six months he's fooled his wife into thinking he still has a job. It seems unlikely that she wouldn't have heard the major foundry where her husband works has closed down. He's also that rare thing in Sheffield, a Tory, and a leading light at the local conservative club where he runs tango classes. Unaware of their imminent financial ruin his misses racks up huge credit card debts on a luxury life style.
There's also excellent work from Craig Gazey as closeted gay man, Lomper and Kieren O'Brian as Guy whose substantial endowment gives him über self confidence. Their blossoming relationship is very sensitively handled and Gazey brings terrific comic value to every scene he's in with his droning, world weary voice.
There's so much to enjoy, it's both laugh out loud funny and at times very moving
There's so much to enjoy, it's both laugh out loud funny and at times very moving. Although he keeps the gags coming thick and fast, Beaufoy isn't afraid to show us the terrible toll unemployment takes on working men, deprived of anything to take pride in and struggling to fill their days.
At first the dancing is clumsy and amateurish but they have an excellent choice in music and play features much loved songs like Hot Stuff, Je t'Aime, You Can Leave Your Hat On and We are Family, the soundtrack to our heroes' act.
Movement director Simon Hoggett skilfully captures the ugly ducklings' transformation to strutting swans. (He's currently working on the fights for the stage musical of Sylvester Stallone's Rocky!)
None of these guys are lookers but by the end of the evening you're willing them to go the full monty and make a success of their dream.
Great to see a West End theatre packed with ordinary working people having a fantastic time. I thoroughly recommend that you join them soon.