Review of Forbidden Broadway
by Phil Willmott on Monday 29 September 2014, 1:24 pm in London Theatre Reviews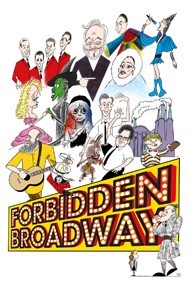 If you see one production in the West End this year it probably shouldn't be this sketch show which pokes fun at musical theatre hits. It'll mean very little to you.
If however you're a regular theatre goer, if you haunt the chat rooms for show biz gossip, if you know who Mandy Patinkin & Rita Moreno are and if you can instantly recognise the costume designs from various Stephen Sondheim shows, this is very much for you.
FORBIDDEN BROADWAY is a New York phenomenon. It's been running for years in a scruffy little theatre near Time Square where it satirises the blockbuster offerings playing at the venues nearby. As a self confessed theatre geek I always find it essential viewing when I visit the Big Apple. This London outing however has left an equivalent venue, it originated at the Menier Chocolate Factory in Southwark, and now takes its place amongst the commercial productions in the West End, competing for your cash with the very shows it parodies.
Some of the sketches are very funny, razor sharp satires on the vanity, greed and sheer stupidity of the big musicals we know and love and the people who work in that world.
Some of the sketches are very funny, razor sharp satires on the vanity, greed and sheer stupidity of the big musicals we know and love and the people who work in that world. Others could probably be dropped to make a tighter evening.
For instance the Les Mis parody, which is very, very old now, is still laugh out loud funny when it sends up actors coping with the revolve and when it rewrites the lyrics to Bring him Home as Bring it Down to allow the performer to beg for a lower key. However the song On My Own rewritten as On my Phone doesn't seem to make any satirical point what so ever other then the fact that "home" nearly rhymes with "phone."
It's a similar story throughout. There are up to the minute digs at, for instance, how unimaginative Charlie and the Chocolate Factory is, the forthcoming low-budget Evita and Robert Lindsey's vanity performance in Dirty Rotten Scoundrels, playing at the Savoy Theatre across the road but there are also long drawn out numbers about things UK theatre goers just aren't going to care about; like mistaking Rita Morino for Chita Rivera, or Bernadette Peter's tired singing voice.
Other skits lack teeth because there's no truth in them. It's fun to watch adults dress as Matilda and Billy Elliot but does anyone actually believe they're exploited as the song suggests? The writers really struggle to find anything bad to say about The Book of Mormon, criticism of the Lion King is reduced to a number about how the head dresses are too heavy and a long pastiche of Jersey Boys centres around the shows over dependence on narration. Hardly side splitting stuff but the number about the exploitation of Broadway by corporate investors has real venom and is horribly accurate.
It should be said that it's all delivered with extraordinary flash and dash by the four performers, Christina Bianco, Anna-Jane Casey, Damian Humbley, Ben Lewis and pianist, Joel Fram.
Bianco is new to the cast but a veteran of the NYC version and the others, recreating the roles they played at the Menier, all have a string of impressive credits to their name. Their singing, dancing and comic timing is immaculate and the energy with which they attack sketch after sketch will blow you away.
Everyone has plenty of moments to shine. I particularly enjoyed Humbley as Cameron Macintosh, eulogising about how he makes money from the American market with his block buster shows, even if some of the gags are wide of the mark (the great producer has never been accused of featuring big breasted women in his shows, has he?)
Ben Lewis, is tall handsome and funny in an impressive range of roles, with surprisingly good impersonations of US and Brit theatre folk for someone who's been based in Sydney for so long.
Anna Jane Casey proves once again that she's one of our greatest leading ladies, a glorious singer and witty comedian, so utterly in control of her lean, elegant body as she wraps her tongue around impersonations of Liza Minnelli and an Angela Landsbury nostalgic for a bygone era.
The tiny Christina Bianco brings that extra bit of Broadway pizzazz to proceedings. Check her out on YouTube for the incredible range and accuracy of her impersonations.
On press night, packed with show biz guests and musical theatre students the whole thing went like a rocket with gales of laughter from start to finish.
Whether you enjoy it as much will probably depend on how much you know about block buster musicals and back stage bitching.