Fences Review
by Oliver Mitford on Tuesday 25 June 2013, 8:50 pm in London Theatre Reviews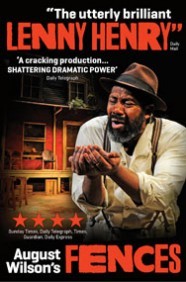 Fences crackles with dramatic power, as Lenny Henry shows his mettle on stage at The Duchess Theatre.
You may love or loathe his comedy, but it is impossible to deny Lenny Henry's determination to become a serious actor of some note. Having played Othello in the West End back in 2009, he obviously got a taste for The Bard, going on to star in the National Theatre's 2012 production of The Comedy of Errors. This time, however, Henry tackles a part that many a seasoned actor would shy away from – Troy Maxson in August Wilson's modern American classic Fences.
Part of Wilson's epic ten-play Pittsburgh cycle that charts the African-American experience through the twentieth century, Fences is now part of the modern classical cannon, having won both a Pulitzer Prize and Tony Award. Set in 1957, a major time of transition for black Americans, both politically and socially, we are introduced to the grizzled Troy Maxson, a garbage collector with unfulfilled dreams of baseball stardom, who rules over his family like a tyrant possessed.
After a long stint in jail, he has learnt independence and self-reliance the hard way, battling racism, financial hardship and an abusive father. Rose (Tanya Moodie), his long-suffering wife, tries her best to keep the family together, but Troy's bitterness brings him to crush the ambitions of his sports-mad sons (Peter Bankole and Ashley Zhangazha), eventually turning them against him. The fence that Troy is building round their family home starts to become the prison he left years ago – keeping others out and trapping his family within.
Wilson's play has strong echoes of Arthur Miller's All My Sons and Eugene O'Neil's A Long Days Journeys into Night, with the steady downfall of the father figure forming the centre point of the story. Paulette Randall, coming from her work as associate director of the London 2012 Olympic opening ceremony, has produced a quality production. Every character has been fleshed out and examined under the microscope; this can be seen in the cast's incredibly detailed portrayals, alive with psychological truth.
Randall has also got to grips with the play's volatile pace, ensuring that we pick up on every little bit of information, even at the rocket-like speed the play can sometimes rattle along at. Libby Watson's atmospheric and suitably ramshackle set design of the family's dilapidated house and backyard fits snugly into the Duchess's shallow stage. It's all excellent work from consummate professionals.
On the night of this particular performance, however, something went drastically wrong with the theatre's sound system. Having walked into the auditorium to the soulful trills of a 1950's blues song, I think it's safe to assume that we were all expecting the action to be punctuated by an evocative jazz/blues score. Unfortunately, at the start of the first scene change, we were witness to a stage full of rather nervous and tentative looking actors, all looking to the wings for guidance, as they stood in a silence that would have put the British Library to shame. Eventually, they started to move off stage and into the next scene. As I looked around the audience my eyes met other puzzled faces thinking the same thing as me 'something's not right here…'. This dead silence and odd, shuffling scene changes continued right through to the interval, until a very flustered-looking stage manager appeared on stage to inform us all that there was indeed a problem with the sound and that they were very sorry, but this problem was unlikely to be rectified by the end of the performance.
That's the excitement of theatre sometimes; it's live and things can and do go wrong – the more interesting result of these 'problems' is that it can have a positive effect on the actors, who counteract the technical problem by pulling out all the stops to give truly magnificent performances. I am pleased to say that, on the night in question, we were treated to just that. As the curtain went up for the second half, the cast were like dogs out of their traps, practically buzzing with energy and emotion. It was as if we were watching a different play. As the drama built and with Lenny Henry leading from the front, all thoughts of sound problems dissipated from our minds. We were gripped by the true intensity of the performances.
Nights like these are a rarity in the theatre. I can only hope that cast will now deliver every performance as though there is a technical problem to overcome and recreate the same energy and passion we were lucky enough to witness.
Needless to say, at the curtain call, not one audience member stayed sitting as the rapturous applause raised the roof clean off the Duchess Theatre.
Fences runs at the Duchess Theatre until 14 September 2013.