Full casting announced for Fatal Attraction
by Oliver Mitford on Tuesday 11 February 2014, 2:28 pm in Cast Changes and Announcements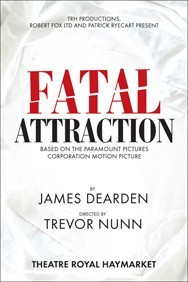 Natascha McElhone leads the cast in the world stage premiere of Trevor Nunn's production of Fatal Attraction, due to open at the Theare Royal Haymarket on 25 March 2014.
McElhone will play Alex Forrest with Mark Bazeley as Dan Gallagher and Kristin Davis as his wife Beth. Other cast includes Jane How as Joan, and Alex Lowe as Jimmy.
Natascha McElhone is best known for her role as Karen in the popular Showtime TV series Californication. Her stage credits include Richard III and A Midsummer Night's Dream (Open Air Theatre Regents Park), The Count of Monte Cristo (Manchester Royal Exchange), Honour (Wyndhams' Theatre). Her extensive film credits include Surviving Picasso, The Truman Show, The Devil's Own, Ronin, Solaris, The Secret of Moonacre Manor, Mrs Dalloway, Laurel Canyon, Ladies in Lavender, The Kid, Theatre of Dreams and Love's Labour's Lost
Mark Bazeley was last on stage in Trevor Nunn's production of Scenes from a Marriage at the St James' Theatre. His other theatre credits include Our New Girl (Bush Theatre), The Seagull (National Theatre), Death of a Salesman (Lyric Theatre), Macbeth (Albery Theatre), Homebody/Kabul (Young Vic) and The Real Thing (Donmar Warehouse). His television credits include Death in Paradise, The Suspicions of Mr Whicher, Endeavour, The Accused, Mistresses, Hustle, Spooks, and Prime Suspect. Bazeley's film credits include The Queen, The Damned United and The Special Relationship.
Kristin Davis will make her West End stage debut as Beth Gallagher. She is best known on television for playing Charlotte in HBO's Sex and the City. Her other television credits include the role of Brooke Armstrong in Melrose Place and more recently Ginny in Bad Teacher , as well as guest appearances on Will & Grace, Friends, Seinfeld, The Larry Sanders Show and ER.
Directed by Trevor Nunn and adapted from the original screenplay by James Dearden, Fatal Attraction tells a story of obsession and revenge that explores how a chance meeting in a bar and a casual encounter quickly becomes a living nightmare for a successful New York lawyer, and his young family….
Fatal Attraction opens at the Theatre Royal Haymarket on 25 March 2014, with previews now starting on 11 March and it is currently booking to 21 June 2014.