Dirty Rotten Scoundrels Review
by Phil Willmott on Thursday 10 April 2014, 9:26 am in London Theatre Reviews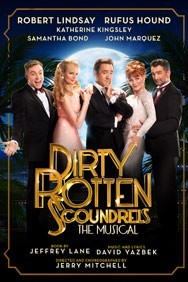 Last week I raved about the anarchic, crazy X factor musical, I CAN'T SING but if you prefer a more traditional Broadway musical DIRTY ROTTEN SCOUNDRELS is just the ticket for you.
From the moment the orchestra strikes up the catchy overture, big, brassy and full of pep, you know you're in for that particularly high-energy show New Yorkers do so well. In this case the power in the engine house is director Jerry Mitchell who has recently formed a production company with major UK and US theatre producers A.T.G so expect more of his American hits including the Tony Award winning KINKY BOOTS to cross the Atlantic.
This earlier Broadway success has taken a good few years to get here. I remember seeing it in New York and being rather underwhelmed. I'm happy to report that in the meantime it's developed into a much punchier show with some good tunes, some great gags and now, two fabulous West End leading men.
Robert Lindsey had a massive musical comedy hit in the eighties starring in ME AND MY GIRL. Now some twenty years later he proves what a master of the art he is with his relaxed and elegant performance as Lawrence, an aging con artist on the French Riviera. We have to believe he's charming enough to seduce rich women into parting with their money and you'll have no problem buying this as he adopts an array of persona to land their hearts, sympathies and bank account details.
From the moment the orchestra strikes up the catchy overture, big, brassy and full of pep, you know you're in for that particularly high-energy show New Yorkers do so well
His smooth operations are threatened when a younger con-man, Benson, moves in on his patch. Whereas Lawrence's technique is cool and sophisticated the new comer throws himself at women like a lovable puppy. Both are equally successful so when both go after the same woman, the gorgeous Christine Colgate, played immaculately by the Katherine Kingsley, it's a real battle of wits.
Benson is played by Rufus Hound who took over the lead in the hit stage comedy ONE MAN TWO GUVNORS to great acclaim. He and Lindsey have great comic chemistry, each turning up in disguise to wreck the other's efforts at the most inopportune moments. They're so good together it's a wonder anyone else has room to make an impact so full marks to the hilarious John Marquez and deliciously classy Samantha Bond who make the sub-plot, an unlikely romance between a French policeman and an heiress, so credible, touching and funny.
It's all based on a movie of the same name starring Michael Caine as the older thief and Steve Martin as the younger. It's unfair to expect Lindsey and Hound to deliver the extraordinary charisma of those two giants but each effortlessly adapts the on-screen silliness into effective stage comedy. A lot of the humour revolves around Benson disguising himself as a wheel chair bound sailor which Lawrence counters by pretending to be a medic that can cure him. The patient must appear oblivious to the pain inflicted on him to test the numbness in his legs and both stars give full comic reign to the sadism and pain that follows.
I'm not a big fan of Peter Macintosh's set which does create a fantasy playground for the rich and their prey but in a very cartoon way that's predominantly beige. However it chops and changes as smoothly as our con-men and delivers the full production values you want from a big, commercial musical along with a full contingent of sexy chorus boys and girls.
The songs by David Yazbek aren't particularly memorable but fizz nicely as part of a score that has a contemporary feel whilst sticking close to its musical theatre roots. Surprisingly for a story that really only centers around three people there's plenty of big company numbers to get the pulse racing, particularly a new song led by an early victim from the mid-west who'd vulgarity makes our up-market scoundrel shudder. You're never far from the next opportunity to enjoy a stage full of glamorous hotel guests and staff whirring around in Mitchell's lively choreography.
There's so much to enjoy here that you really can't go wrong. The acting, singing and dancing are top notch.
Let's hope this director fulfills his brief to bring even more Broadway to the West End!