Dirty Rotten Scoundrels extends booking at the Savoy Theatre
by Oliver Mitford on Monday 26 May 2014, 9:30 am in West End News & Gossip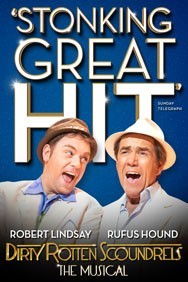 The dastardly funny critically acclaimed production of Dirty Rotten Scoundrels has announced that it will extend its run at The Savoy Theatre until 7 March 2015.
Dirty Rotten Scoundrels is the UK premiere of the musical based on the iconic 1988 film of the same name that stared Michael Caine and Steve Martin. This new production has been reimagined for the stage by director Jerry Mitchell and stars Olivier and Toney award-winning musical theatre legend Robert Lindsay, comedian turned actor Rufus Hound and West End leading lady Katherine Kingsley.
Dirty Rotten Scoundrels tells the deviously clever story of two conmen that descend upon the decadent world of the French Riviera to swindle the rich and famous out of their fortunes. But when the two tricksters realize that there is only room for one of them, they go head to head in the biggest con of their lives.
After a very successful opening back in April that saw critics praise the production for its wit and charm, and celebrate the leading casts performances, the happy news that booking is extending was seconded by Sir Howard Panter, Creative Director of ATG and lead producer of the show - 'We are thrilled with the audience and critical reaction to Dirty Rotten Scoundrels. Night after night packed houses raise the roof with laughter and leap to their feet with applause for this new musical comedy. We have found the perfect home for this production in the lavish Savoy Theatre.'
Tickets for Dirty Rotten Scoundrels are sure to be in high demand, so book early to avoid missing out on this riot of a musical!