Smash-hit comedy Di and Viv and Rose comes to the West End
by Oliver Mitford on Saturday 20 September 2014, 4:48 pm in Upcoming and New Shows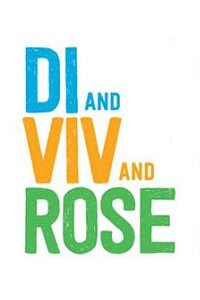 Hampstead Theatre's hit production of Amelia Bullmore's play Di and Viv and Rose will transfer to the West End in early 2015.
The riotous comedy about the friendship of three women who met at university and are reunited first premiered back in 2012 at the Hampstead Downstairs, their small studio space for new writing and experimental work. The production then transferred to the Hampstead Theatre's main space in January 2013 and received four and five-star reviews, selling out the upstairs theatre.
Di and Viv and Rose originally stared Tamzin Outhwaite, Anna Maxell Martin and Gina McKee. The West End transfer to the Vaudeville Theatre will see Outhwaite reprise her role as Di. She will be joined this time by Jenna Russell, currently wowing audience as Penelope Pennywise in Jamie Lloyd's production of Urinetown at the Apollo Theatre, and the double Olivier Award-winning actress Samantha Spiro.
Di and Viv and Rose tells the story of three women who first meet at university aged eighteen and become inseparable friends, but when they are reunited years later, can their friendship last the test of time and cope with the difficulties that life has thrown at them?
Directed by Anna Mackmin, designed by Paul Wills and with lighting design by Oliver Fenwick, this blissfully funny comedy is sure to warm the hearts of audiences young and old when it opens at the Vaudeville Theatre on the 22 January 2015.