Jim Broadbent to lead cast of A Christmas Carol at the Noel Coward Theatre
by Oliver Mitford on Wednesday 2 September 2015, 12:12 pm in Upcoming and New Shows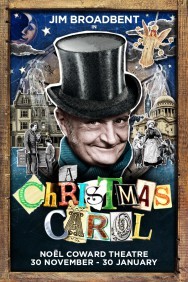 Producer Sonia Friedman has revealed that a new stage adaptation of Charles Dickens' classic novel A Christmas Carol will open at the Noel Coward Theatre in December, staring the Oscar winning actor Jim Broadbent.
Adapted by Patrick Barlow, the man behind the massive West End hit The 39 Steps, A Christmas Carol will be directed by the Oliver award-winning Phelim McDermott and is due to open on 9 December 2015 and run through to 30 January 2016, with previews starting from 30 November 2015.
Internationally renowned actor Jim Broadbent is known for his roles in blockbuster films such as Moulin Rouge and Harry Potter. Broadbent won the Oscar for Best Supporting Actor for his portrayal of John Bayley in Iris.
Patrick Barlow and Jim Broadbent are no strangers to working together for the stage, having both been members of the comedy group The National Theatre of Brent. This is also not the first time Phelim McDermott and Broadbent have worked together, having collaborated on Theatre of Blood at the National Theatre.
Set in Victorian London, A Christmas Carol tells the story of the miserly Ebenezer Scrooge (Broadbent) and his magical journey one Christmas Eve. Audiences will recognise the iconic characters of Bob Cratchit, Tiny Tim, and Mr and Mrs Fezziwig as they are brought to life on stage in the West End.
A Christmas Carol begins previews at the Noel Coward Theatre from 30 November, with the official opening scheduled for 9 December 2015. Full casting is yet to be announced.