Charlie and the Chocolate Factory opens with a bang!
by Oliver Mitford on Monday 1 July 2013, 10:04 am in Upcoming and New Shows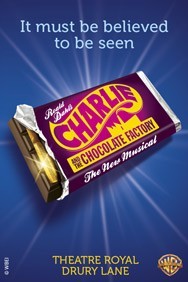 The West End was awash with celebrities for the gala opening of the new musical Charlie and the Chocolate Factory at the Theatre Royal Drury Lane. Stars including Sarah Jessica Parker, Matthew Broderick, Tamsin Greig, Uma Thurman, Andrew Lloyd Webber, Patti LuPone, Matthew Morrison and family members of the late Roald Dahl all turned out in style for the musical's official opening night. Speaking from the red carpet, Roald Dahl's daughter Lucy said: "I've come in from California and I haven't seen any of it, so I feel like I'm one of the lucky children waiting for the gates of the chocolate factory to open."
Roald Dahl's much-loved 1964 book, about Charlie Bucket and the golden ticket that takes him on a magical journey through Willy Wonka's chocolate factory, has been adapted for the stage by David Greig, with songs by Marc Shaiman and Scott Wittman. It is director Sam Mendes' first project since directing Skyfall, the most successful James Bond film of all time. Douglas Hodge stars as the enigmatic sweet factory boss Willy Wonka, while the large cast includes former Young Ones star Nigel Planer as Grandpa Joe.
After the curtain had gone down on the opening night, Lucy Dahl was asked what she thought her father would have made of it. She said: "He never bragged or showed his excitement about things on the exterior, but on the inside he would be very chuffed." Her sister, Ophelia, who chairs the Dahl literary estate, said Sam Mendes was ideal to direct the project. "It's one of the best stories ever and he's one of the best directors ever – so those two things fit together very well."
Charlie And The Chocolate Factory has, to date, been seen by more than 70,000 people since it began previews in May. The producers have announced that the musical has extended its run at the Theatre Royal Drury Lane till 31 May 2014.