Review of Buyer and Cellar at the Menier Chocolate Factory
by Phil Willmott on Monday 13 April 2015, 2:50 pm in London Theatre Reviews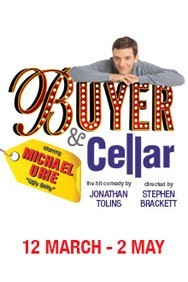 I usually shudder at the prospect of watching a one person play. They're often more about an actor's ego and a producer saving money on cast wages than a great night out. However I'd heard so many good things about this show in New York that I was very excited to see it. I'm happy to report that it more than lived up to my expectations.
As you discover in a brief prologue, Barbra Streisand has built a private shopping mall beneath her mansion, stocked with all her belongings, where she wanders alone pretend-shopping. Author Jonathan Tollins has imagined how bizarre it would be to work there and created a young gay man who's asked to do so. The result is fictional but, as he assures us in the programme, plenty of people have told him that the bizarre details are accurate.
Urie is supremely engaging and surprisingly sexy as this employee. There's no change of costume when he portrays the people he's speaking to just a gentle shift in physicality, and an additional twang to the voice, all he needs to make you understand that he's someone else. It's a rather extraordinary portrayal of Streisand which perfectly conveys her distance, damage and the delicacy of her grip on reality. As played by Urie she is both a freak, mentally unhinged by years of isolated adulation and a vulnerable, lonely old lady.
Inspiration for the piece came from Tollin's discovery of a book on interior design by the star who shares secrets of her exquisitely and meticulously designed home, as photographed by herself. Of course, rather than a style bible, it has become a symbol of quite how devoid of reality her life is. Shut away from the modern world it's an oasis of rural perfection with a watermill, cobbles and picturesque live stock.
What could be just a frivolous, camp and bitchy account of all this actually becomes a poignant exploration of loneliness and an unlikely friendship. It's also extremely funny as we laugh with and at our narrator as he laughs with and at Streisand.
Michael Urie, best known for playing a camp PA in TVs Ugly Betty, is as nuanced and pitch perfect as you'd expect from someone who's been performing the show to great acclaim for years. He says at the start that he's not going to do an impression of the diva but it's exquisite how precisely he mimics her mannerisms when he voices her side of their awkward conversations. In the outside world his relationship with his boyfriend, also beautifully characterised, is on the rocks and as Barbra tentatively opens up to him he starts to understand what's at stake.
He begins to coach Streisand to play the role of Momma Rose in the musical GYPSY which they fantasise she will direct as a film. It's very funny to contrast their delight in the task with a reality, cruelly voiced by her new tutor's boyfriend, in which she's way too old for the part. She also reveals secrets from her neglected childhood which we're also invited to treat with skepticism including a bizarre revelation that her only toy was a hot water bottle which she dressed as a doll. It's hard to give much credence to her claim that she was never made to feel like a pretty girl when you consider how early in life she started appearing on the cover of glamorous magazines.
Other characters include a sarcastic supervisor who orders our hero to hide his scruffy car in case it spoils the idyllic rural environment the star has created for herself and her vaguely curious husband. His late night encounter with the narrator is uneventful yet somehow charged with danger, even sexual tension, before the alpha male is revealed to be as ego centric and vain as any has-been celebrity.
The show is played out in a simple, elegant white room, around a few pieces of tasteful cream furniture. It's an environment that's both refined and claustrophobic with no suggestion of a window or way in or out, giving a taste of the claustrophobia and sterility of Streisand's perfectly manicured, underground, fantasy world. Projections play across the black wall to indicate various shifts in location.
I thoroughly recommend this beautiful written, immaculately performed, comedy. Catch it in the intimacy of the Menier Chocolate Factory during its limited run before a rumored West End transfer.