Over 200,000 Ticket Sales for Breakfast at Tiffany's
by Best of Theatre Staff on Monday 5 September 2016, 3:30 pm in West End News & Gossip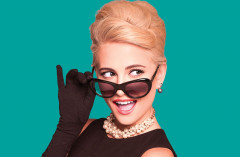 The UK & Ireland tour & West End limited season of Truman Capote's BREAKFAST AT TIFFANY'S sells over 200,000 tickets.
With just over two weeks to go before the West End run of Breakfast at Tiffany's ends and Georgia May Foote replaces Pixie Lott as Holly Golightly to complete the last two months of the UK & Ireland Tour, the production has already sold over 200,000 tickets, with Pixie Lott selling 119,550 tickets over her 19 weeks' performances, which represents a sell through of 80% of capacity.
Producer Colin Ingram stated, "This is particularly impressive when you consider this to be a play and not a musical and shows the popularity of the title, Pixie and audiences' openness to see Capote's work based on the novella and not the film." He added, "We look forward to bringing our next Holly, Georgia May Foote, to the stage as we continue on our tour for the final eight weeks."
Pixie Lott said of her time in the production, "This has been a wonderful experience for me. I've really enjoyed the entire process, from rehearsals through to performance and being able to thoroughly explore the role. Holly is such a complex character. I feel I've got to know her very well and feel a great affection for her. I'll really miss getting inside her head (and her great outfits) every night, but I'm also looking forward to going back to my music and the next phase of my career. I really wish Georgia well and hope she gets as much out of playing Holly as I have done."
The West End run of Breakfast at Tiffany's comes to an end at the Theatre Royal Haymarket on Saturday 17 September. Georgia May Foote will play the role of Holly Golightly on tour from 19 September to 19 November 2016, playing Milton Keynes, Bristol, Malvern, Sheffield, Brighton, Belfast, Cardiff and Norwich.
Truman Capote's classic novella has been adapted for the stage by Pulitzer Prize-winning Finalist and Tony and Olivier Award-winning playwright Richard Greenberg (Take Me Out, Three Days of Rain), and contains memorable songs from the era as well as original music by Grant Olding (One Man, Two Guvnors).
Based on Truman Capote's beloved masterwork, Breakfast at Tiffany's is set in New York in 1943. Fred, a young writer from Louisiana, meets Holly Golightly, a charming, vivacious and utterly elusive good-time girl. Everyone falls in love with Holly – including Fred. But Fred is poor, and Holly's other suitors include a playboy millionaire and the future president of Brazil. As war rages on in Europe, Holly begins to fall in love with Fred – just as her past catches up with her.
Breakfast at Tiffany's is directed by Nikolai Foster, the Artistic Director of Curve, with production design by Matthew Wright, lighting design by Ben Cracknell and sound design by Mic Pool.
Breakfast at Tiffany's began its run of sold-out performances at Curve, Leicester on 3 March 2016, before embarking on a UK & Ireland Tour on 15 March. The 12-week season at the Theatre Royal Haymarket in London's West End began on 30 June 2016.
Breakfast at Tiffany's is a co-production between Colin Ingram, Peter Kane, William Sinclair, Michael Melnick & Finlay Gray and Leicester's Curve theatre.