Sing Along with BAT OUT OF HELL at the Dominion
by Best of Theatre Staff on Thursday 9 August 2018, 10:09 am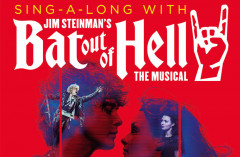 The producers of Jim Steinman's Bat Out Of Hell – The Musical are delighted to announce five special performances when the audience will be able to sing along with the cast to the classic hits. These performances will take place on Tuesday 28 August, Tuesday 25 September, Wednesday 31 October, Tuesday 27 November and Monday 31 December. On Halloween (31 October) and New Year's Eve (31 December), the audiences will also have the option to come dressed as their favourite character from the show or from one of Meat Loaf's iconic videos. The best dressed audience member on each night will go home that evening with a Bat Out Hell – The Musical poster signed by Meat Loaf himself.
The show is providing a surtitle screen that will allow everyone who wants to, to sing along with the show.
Nick Evans, the Associate Director of the London and German productions, said, "Bat Out of Hell – The Musical has brought the legendary music of Jim Steinman to the heart of the West End. It's become clear just how much these songs mean to people. Our Singalong Nights will be a celebration of that; a chance for our energetic, passionate audiences to be a step closer to our talented cast. These unique performances promise to become very sought after ....a night at the theatre, a party and a rock concert all in one!"
The winner of the Evening Standard Radio 2 Audience Award for Best Musical 2017 began previews at the Dominion Theatre on Monday 2 April, with a gala performance on 19 April 2018. It is now booking through to 5 January 2019.
Bat Out Of Hell – The Musical wowed critics and public alike when it played limited seasons at Manchester Opera House, London Coliseum and Toronto's Ed Mirvish Theatre in 2017, and has been seen by over 650,000 people to date. A new production opens in Toronto for a three-week engagement this autumn as the first stop in a multi-city North American tour.
In April 2018, Bat Out Of Hell – The Musical announced a wide-ranging global partnership to support the Invictus Games Foundation, the governing body of the Invictus Games, a global sporting event for wounded, injured and sick servicemen and women, both serving and veterans.
Bat Out Of Hell became one of the best-selling albums in history, selling over 50 million copies worldwide. 16 years later, Steinman scored again with Bat Out Of Hell II: Back Into Hell, which contained the massive hit I Would Do Anything For Love (But I Won't Do That).
For the stage musical, the legendary and award-winning Jim Steinman has incorporated iconic songs from the Bat Out Of Hell albums, including You Took The Words Right Out Of My Mouth, Bat Out Of Hell, I Would Do Anything For Love (But I Won't Do That) and Two Out Of Three Ain't Bad, as well as two previously unreleased songs, What Part of My Body Hurts the Most and Not Allowed to Love.
Jim Steinman's Bat Out Of Hell – The Musical is a romantic adventure about rebellious youth and passionate love, set against the backdrop of a post-cataclysmic city adrift from the mainland. Strat, the forever young leader of The Lost, has fallen for Raven, daughter of Falco, the tyrannical, ruler of Obsidian.
Bat Out Of Hell - The Musical has book, music and lyrics by Jim Steinman, direction by Jay Scheib, choreography by Emma Portner, with musical supervision and additional arrangements by Michael Reed, set design by Jon Bausor, costume design by Jon Bausor and Meentje Nielsen, video design by Finn Ross, lighting design by Patrick Woodroffe, sound design by Gareth Owen, orchestration by Steve Sidwell, casting by David Grindrod CDG, fight direction by Stuart Boother and musical direction by Robert Emery.
Jim Steinman's Bat Out Of Hell – The Musical is produced by David Sonenberg, Michael Cohl, Randy Lennox & Tony Smith.