No Memory Worries for Angela Lansbury in BLITHE SPIRIT
by Phil Willmott on Monday 3 February 2014, 11:13 am in West End News & Gossip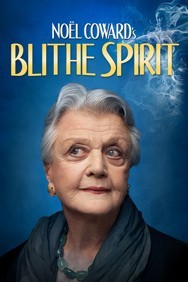 If you collect experiences of seeing big stars, live in theatre you'll be as delighted as I am at the prospect of catching Dame Angela Lansbury (satr of TV's Murder She Wrote, classic Hollywood and vintage Broadway) as the dotty medium Madame Arcati in a revival of Noel Coward's BLITHE SPIRIT announced for the Gielgud Theatre in March.
Lansbury is 88 years old and judging from recent photographs as sprightly as ever but... can she still remember lines?
The ability to do so can cruelly deteriorate with age no matter how experienced an actor is. The loss of capacity for recalling text can be a sudden and chilling thing to watch on stage or in the rehearsal room. I've observed it strike as suddenly as flicking off a switch.
Actors deal with it in one of two ways. Some become frightened and aggressive, blaming everyone else in the room, as happened when I directed a cast member of a certain age in a starry Joe Orton revival a while back. It made rehearsals a nightmare for everyone. Or they accept and acknowledge the situation gracefully and ask for allowances to be made, as happened with an elderly star when I directed Ring Around the Moon. This is of course much easier to deal with but the process of painstakingly feeding your leading actor prompts, line after line, mean it's very difficult to get any flow to the piece in rehearsals.
Of course once you get into performance it's even scarier. You hold your breath every time the senior actor makes an entrance preying that they won't go blank. There are however a few methods to overcome this. Vanessa Redgrave had a prompter sat close to the stage for every performance of the recent production of MUCH ADO ABOUT NOTHING at the Old Vic and Richard Dreyfus infamously had his lines fed to him through an ear piece in a modern play at the same address. In fact audiences would be shocked to learn how common a practice this is.
In the past I've turned down jobs where I believe this problem is going to dominate rehearsals. Although I can be pleasantly surprised. James Horne, well into his seventies and currently starring in my West End bound revival of Finian's Rainbow has one of the best memories for line and moves of anyone on stage.
You may have noticed that Michael Gambon's last two theatre roles involved no lines at all or lines that could be read from a script. The last time he attempted to tackle a major stage role, in THE HABIT OF ART at the National Theatre, he had to be replaced by the late Richard Griffiths.
The most tragic example I've witnessed of this phenomenon was watching a highly regarded elderly actor playing a lead in a Christopher Marlowe play at the National. On the press night he forgot his lines over and over again. It marked the end of his career, he knew it, the audience knew it and it was one of the saddest things I've ever seen.
So do we have to worry about Dame Angela or is she one of the lucky senior actors the curse has spared?
Worry not. She has already played the part for a long run on Broadway (opposite Rupert Everett) so she's had plenty of time to learn the script off-by-heart and that performance is reported to be a master class in comic delivery.
Book with confidence. This may be our last chance to see a legend (and her memory) in action.