A double celebration for Billy Elliot the Musical
by Oliver Mitford on Tuesday 20 May 2014, 10:18 am in Cast Changes and Announcements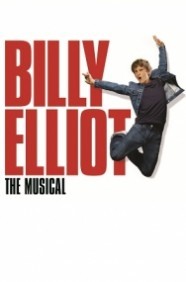 Last week, Billy Elliot the Musical celebrated its Ninth Birthday, marking the 12 May as the day the production officially opened at the Victoria Palace Theatre. The birthday celebrations also coincided with the arrival of new cast members for the roles of Billy, Debbie and Michael.
Eleven year old Matteo Zecca takes the part of Billy and ten year old Kyria Cooper steps into the pink tutu to play Debbie. The pair will have their first performance alongside new cast members Ruthie Henshall as Billy's dance teacher Mrs Wilkinson, Chris Grahamson who plays Billy's brother Tony and Barnaby Meredith who returns to the production to play Older Billy.
Matteo Zecca said on the announcement of his role as Billy 'I went to see Billy Elliot the Musical three years ago and I absolutely loved it. From that moment I wanted to be Billy even though I had never danced before! I started ballet at the age of nine and have loved it ever since. After my auditions when I found out I had got the part I was so happy and excited.' Ten year old Kyria Cooper followed by saying 'I first began to dance with Stagecoach in Hartlepool where I have been training in singing, acting and dancing for the past few years. I am so excited to be performing in the West End for the first time!'
Billy Elliot the Musical is directed by Stephen Daldry and contains music by Elton John and lyrics by Lee Hall. The production is booking at the Victoria Palace Theatre untill 16 May 2015.