Bill Nighy - what's not to Love Actually?
by Phil Willmott on Thursday 20 February 2014, 9:55 am in Upcoming and New Shows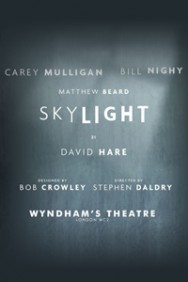 It's been anounced that Bill Nighy is returning to the West End and the role of Tom Sergeant in David Hare's three hander, Skylight, at The Wyndham's Theatre from June 6th.
He first played the part of this recently widowed restaurateur trying to rekindle his relationship with a younger woman, in the late 1990s taking over the role from Michael Gambon who originated it at the National theatre. This time Nighy is the big star and I'm looking forward to seeing him tackling the knotty twists and turns of this psychologically fascinating play.
Nighy is one of those extraordinary actors that is quite brilliant in every role he plays whilst essentially always playing himself. Whether he's a sea monster or a put upon husband he's always a nervy, warm, slightly befuddled version of a middle class dad. You know exactly what you're going to get and he never disappoints.
Actors at drama school are taught an elaborate series of techniques with which to transform themselves into each character they play, adapting their voice and physicality as appropriate. It then comes as something as a surprise to them that they're only cast professionally in roles where the director wants them to look and sound exactly as they are in real life.
One of the first things as a director that I often have to do is stop young actors bolting on a series of character mannerisms and to encourage then to portray the person they're playing simply and truthfully as a variation of themselves.
There are a few exceptional actors who seem to be able to lose themselves in every role they take on and are hired on this basis. For instance you expect Meryl Street or Daniel Day Lewis to present some extraordinary transformation but most of the great actors you'll see just keep things close to home.
As theatregoers we benefit because we know exactly what we're going to get. Quite frankly If I book to see any of the grande dames - Judy Dench, Maggie Smith, Penelope Wilton, Penelope Keith, etc. I look forward to seeing the personas I know and love. For the most part, perhaps with some token adjustment of accent, that's exactly what these gals deliver.
Book yourself a ticket for Skylight then but more importantly book confidently that you're going to see exactly the same Nighy you enjoyed in Love Actually and The Best Exotic Marigold Hotel.