Bend It Like Beckham extends at the Phoenix Theatre
by Oliver Mitford on Monday 24 August 2015, 11:57 am in Theatre News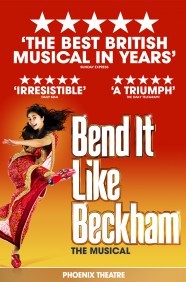 Brand new hit British musical Bend It Like Beckham has announced that it is to extend its stay in London's West End, now booking through to 20 February 2016.
The screen-to-stage musical adaptation opened back in June at the Phoenix Theatre to unanimous critical acclaim, garnering four and five star reviews from most reviewers, with some heralding the production as the best new British musical since Billy Elliot.
Directed by Gurinder Chadha and featuring a new score by the legendary Howard Goodall and Lyrics by Charles Hart, Bend It Like Beckham is adapted from the 2002 film of the same name, also directed by Chadha. It tells the story of a young girl and her dream to follow in the footsteps of David Beckham, but her strict family have other plans for her future that do not involve football.
The current cast of Bend It Like Beckham includes Lauren Samuels as Jules, Natalie Dew as Jess and Jamie Campbell Bower as Joe. They are joined by Ronni Ancona as Paula, Natasha Jayetileke as Mrs Bhamra, Tony Jayawardena as Mr Bhamra, Preeya Kalidas as Pinky and Jamal Andreas as Tony. The large ensemble company includes Irvine Iqbal, Karl Seth, Sohm Kapila, Buckso Dhillon-Woolley, Rakesh Boury, Harveen Mann, Danielle Young, Sejal Keshwala, Serina Mathew, Sharan Phull, Kayleigh McKnight, Tom Millen, Daniel Bolton, Raj Bajaj, Michelle Bishop, Jorell Coiffic-Kamall, Chloe Chambers, Genesis Lynea, Kirstie Skivington, Rekha Sawhney, Shahid Khan and Lisa Bridge.
Bend It Like Beckham is now booking at the Phoenix Theatre until 20 February 2016.