Diabolically funny new comedy Barking In Essex has got the West End cracking up
by Oliver Mitford on Monday 5 August 2013, 10:28 am in Upcoming and New Shows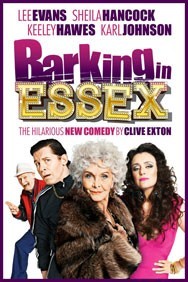 Brand new publicity shots of Clive Exston's hilarious new comedy Barking in Essex starring Lee Evans, Sheila Hancock, Keeley Hawes and Karl Johnson, have had the whole of London's theatreland laughing. The photos show the stars of the production after a The Only Way Is Essex style makeover, complete with pink stretch limo and even a leopard skin coat! The pictures set the right tone for what is expected to be a silly and riotously funny production.
Barking in Essex is due to open at Wyndham's Theatre, in the heart of London's West End, from 16 September 2013 to 4 January 2014. The play tells the farcical story of a notorious Essex gangster named Algie Packer, played by the comedic legend that is Lee Evans, who after seven years in prison, comes back to his home in Essex to collect his stashed loot worth millions. But The Packers, Algie's dysfunctional and outrageous family, have other plans for the money…
Comedian-turned-actor Lee Evans is well known for his serious theatre rolls in productions such as Harold Pinter's The Dumb Waiter and Samuel Beckett's Endgame opposite Michael Gambon. However, Evans said, 'I've done a lot of serious stuff like Pinter and Beckett, so with this (Barking in Essex) I just want to have some fun. Plus I love the West End at the moment, it's brilliant, and there's something for everyone. When I was a kid it all seemed a bit posh but now it's really opening up.' When asked to describe the play he said, 'It's a bit like Ab Fab meets The Sopranos — it's mental, it's mad, it's silly'.
Barking in Essex opens at Wyndham's Theatre on 16 September 2013, with previews from 6 September.