The Attraction of FATAL ATTRACTION
by Phil Willmott on Monday 10 March 2014, 10:29 am in West End News & Gossip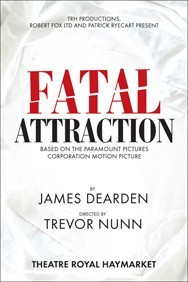 Not long to go until we get to see the stage version of FATAL ATTRACTION, opening at the Theatre Royal, Haymarket on 11 March and currently booking to 21 June 2014.
I'm really intrigued as to the approach director Trevor Nunn will take. It's a tricky one.
On the one hand he'll want to reinvent the story for himself, I can't imagine he'll want to do a carbon copy of the film, as they do with DIRTY DANCING that's just finished its run at the Piccadilly Theatre to accommodate JERSEY BOYS move across from The Prince Edward.
He's a brilliant director and will be aware that he's been hired to put his own spin on the story of how a straying husband (Michael Douglas in the film, Mark Bazeley in the play) fends off an affair (Glenn Close in the film, Natascha McElhone in the play) when she becomes obsessive and threatens to destroy his family.
However the piece will need to succeed with as wide an audience as possible who are likely to show up already fond of the story including all its absurdities.
Presumably Nunn won't want to parody the original but there's bound to be an element of the audience who'll want a night of fun spoofing the original, especially the infamous scene when the mistress boils the family's pet rabbit. This shocking moment has become iconic and the term "Bunny Boiler" has passed into common usage to describe an obsessive ex-lover. At first it was used in all seriousness but soon became light hearted, fun slang.
The production is going to have to handle that scene very carefully if it's not to get laughs and maybe even cheers from an audience who've come to see that moment. But if it's played acknowledging that and in a crowd pleasing way how will Nunn ever manage to pull the audience back to taking the plot seriously?
Other iconic moments from the movie include the sex in the elevator scene. It's going to be a tricky task to reproduce the passion and intimacy of that on stage.
Watching the film now, a decade or so on from its release, it all seems very sexist in its demonising of an emotionally vulnerable woman whilst the cheating husband is elevated to hero as he tries to destroy her. Will Nunn play that straight or send it up?
The movie was conceived and released when the AIDS crisis was at its height and the psycho mistress came to represent the disease at a time when sex outside of the conventional heterosexual marriage had become something to fear and associate with death.
Now that some of the ravages of AIDS have abated and society has come to take a more balanced view of lifestyles outside the norm the metaphor of extra-marital sex = death seems absurd if not offensive. So will Nunn gloss over this or hold it up to illustrate how people thought in 1987?
Will the characters wear 80's clothes, which always look pretty silly these days or modern fashions in which case how will they mesh with the plots inherit but very dated sexual politics?
One thing's for sure we can trust one of the world's most experienced directors to get it absolutely right.
His taste and theatricality have powered hit after hit but FATAL ATTRACTION will be his biggest challenge for a long time.