Damian Lewis soon to appear on stage in American Buffalo
by Oliver Mitford on Thursday 8 January 2015, 9:45 am in Cast Changes and Announcements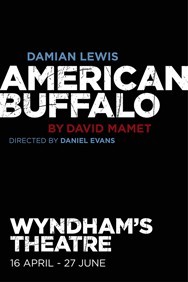 Star of popular television series Homeland and West End leading man, Damian Lewis is gearing up for his role in the West End revival of David Mamet's acclaimed play, American Buffalo.
Due to open at the Wyndham's Theatre on 16 April 2015, American Buffalo will be directed be Sheffield Theatre's artistic director, Daniel Evans and will run until 27 June 2015.
American Buffalo is David Mamet's 1975 play that premiered on Broadway on 16 February 1977. It went on to win the New York Drama Critics Circle Award for Best Play and was also nominated for two Tony Awards for Best Direction and Best Set Design.
Set entirely in an American junk shop, the play tells the story of Dan and Bob, owners of a junk shop who accidently sell a buffalo nickel for far less than it is worth. The pair then set about planning to steal the coin back, but not everyone can be trusted in this world of deceit and double crossing.
Damian Lewis was last seen on a West End stage alongside Keira Knightley in the 2009 modern day version of Moliere's The Misanthrope. The star of Homeland and World War Two epic, Band of Brothers, is no stranger to the stage, having worked with the Royal Shakespeare Company and the National Theatre.
Director Daniel Evans is also used to the big pressures of the West End stage, with his production of the Full Monty opening in London's Theatreland last year.
Further casting for American Buffalo will be announced soon.