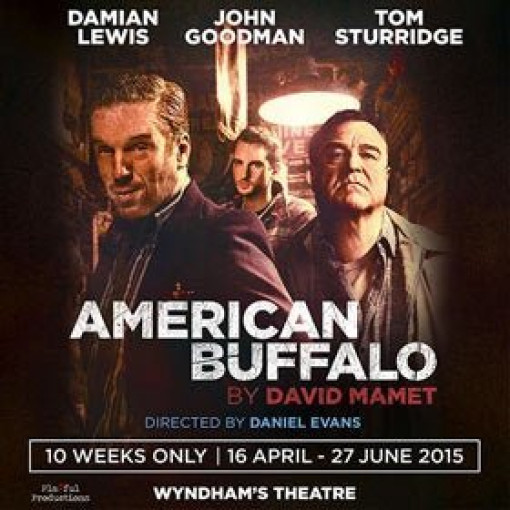 American Buffalo
3/5
based on 6 reviews
(read reviews)
Booking until: Saturday, 27 June 2015
American Buffalo description
This hugely popular play won a Drama Critics Circle Award in 1977 for the best American play. It has won an Obie Award. And it's a contemporary classic not to be missed. So why is it so special?
Take the story of three men, each struggling with a distorted personal vision of the American Dream. This hilariously funny and vicious story mercilessly attacks the modern 'big business' ethos and the horribly high price it so often extracts from the human spirit.
Don owns a junk shop, the scene of the entire play. He's just sold an incredibly rare and collectible buffalo nickel to a customer for just $90. But he's regretting it, suddenly certain it's worth a whole lot more. He and his young gofer Bob decide to steal the rare coin back.
Bob spies on the customer's house, reporting that the owner has gone on holiday. Teach, who plays poker with Don, turns up and, on learning about the scheme, persuades Don that Bob is too inexperienced and untrustworthy to handle the theft. He puts himself forward as the perfect candidate for the burglary, suggesting it'd be much better to steal the customer's entire coin collection, not just the buffalo. Don insists that their poker friend Fletcher accompanies Teach, but Teach is very unwilling. He wants to go it alone.
As the plot thickens things get more and more complicated, with each protagonist mistrusting the others. Fictional muggings, fantastical secret plots, hospitalisations and violence follow as greed gets the better of everyone concerned.
Nominated for two Tony Awards - Best Direction of a Play and Best Scenic Design - it has enjoyed a total of four Drama Desk Award nominations including one for Outstanding New American Play. A 1983 revival was nominated for the Best Reproduction Tony award as well as the Drama Desk Award for Outstanding Actor in a Play, for Al Pacino. The show was also revived on Broadway in 2008.
Who is it suitable for? Because the language is very strong indeed - terse, raw and profane - this wonderful play is best suited to over 18s.
American Buffalo tickets – Very strong language, raw and profane
If you'd like to buy American Buffalo cheap tickets, we have the full range of seating types on offer, from low cost to premium, all with excellent availability.
Starring
John Goodman, Damian Lewis, Tom Sturridge
Playing at Wyndham's Theatre
32-36 Charing Cross Road, London, WC2H 0DA (venue info)
Directions
American Buffalo photos
Age restrictions
Recommended for ages 12+ - Contains very strong language
Important information
Please note: Owing to the nature of the production, latecomers for American Buffalo will not be admitted until after the Interval.
For the best availability, choose midweek performances.
Performance Times
American Buffalo news
Damian Lewis soon to appear on stage in American Buffalo
08

Jan
Damian Lewis soon to appear on stage in American Buffalo