Salome - Could Al Pacino make a return to the West End?
by Oliver Mitford on Saturday 22 November 2014, 12:32 pm in West End News & Gossip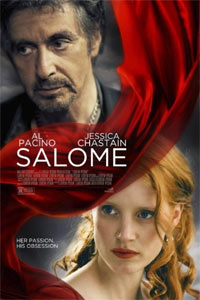 There has been talk in the world of theatre for a few months now about the possibility of Oscar-winning actor Al Pacino returning to the London Stage in 2016.
It's starting to look like this gossip may actually be based on some truth, as the actor let slip that he would be taking the role of King Herod in a massive new production of Oscar Wilde's classic play, Salome, in the Spring of 2016.
The producer of West End and Broadway mega-hit, The Audience (soon to receive a London revival with Kirstin Scott Thomas in the lead role), is supposedly the driving force behind Salome.
Al Pacino was last seen on stage in London's West End back in 1984, when he starred in David Mamet's American Buffalo at the Duke of York's Theatre. The Hollywood A-lister obviously has a drive to do this play, as he has already worked on two staged readings of the play in America, and more recently appeared in the film Wilde Salome, about the LA staging of Oscar Wilde's tragic play.
Before the spring 2016 production, Pacino is set to appear in a new David Mamet play on Broadway, the incoming David Gorden Green film, Manglehorn, and in Philip Roth's adaptation of The Humbling.
The 64-year-old actor has become a household name over the past 30 years, playing such iconic roles as Tony Montana in Scarface and Michael Corleone in The Godfather.
The London production of Salome will possibly be directed by film and theatre director, Robert Allan Ackerman, but this has yet to be confirmed.
Word is that the shows producers are looking to discover a new young female talent to take the part of Salome alongside Al Pacino. If the LA staged reading is anything to go by, then the lucky actress chosen could follow in the footsteps of Jessica Chastain, whose career took off after playing the role.
Look out for more information on Salome coming very soon!