Lenny Henry trades in the laughs for a more serious role in Fences at the Duchess Theatre
by Oliver Mitford on Thursday 6 June 2013, 10:03 am in Upcoming and New Shows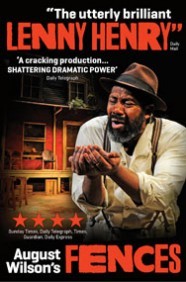 Lenny Henry is best known as a world-class comedian, but recently he has been bucking the trend and showing us that his talents stretch well beyond just comedy. Back in 2009, Henry wowed audience and critics alike when he bravely took on Othello in London's West End and then The Comedy of Errors at the National Theatre last year. Now he will be looking to repeat the success, this time as the hard-boiled anti-hero Troy Maxson in August Wilson's 1983 Pulitzer Prize-winning play Fences at the Duchess Theatre.
Fences has been lauded as one the greatest American dramas of the 20th century; this statement can be added to the long list of accolades and awards such as the New York Drama Critics' Award, the Pulitzer Prize for Drama and not one but two Tony Awards!
Set between the Korean and Vietnam wars, the play tells the story of Troy Maxson, a Pittsburg garbage collector who suppresses the ambitions of his sport-mad sons because of his own dreams of being a professional baseball player were dashed due to the colour of his skin. Troy's bitterness and resentment soon starts to tear his family apart. The production started life out at the Theatre Royal Bath before embarking on a national tour – so when Fences finally arrives in the West End, the cast and director Paulette Randall will have finely tuned every aspect of the production to the highest standard, so get your skates on as tickets will be highly sought-after. August Wilson's meaty and gripping play opens at the
Duchess Theatre
on the 26 June and is booking until the 14 September 2013.