Full Cast Announced for Bend It Like Beckham
by Oliver Mitford on Wednesday 14 January 2015, 9:52 am in Cast Changes and Announcements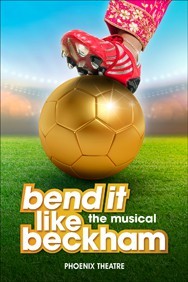 Brand new British musical, Bend It Like Beckham has finally announced the full cast for its hotly anticipated opening in June 2015.
Newcomer Natalie Dew will play football fanatic Jess. Star of Tim Burton's Sweeney Todd, Jamie Campbell Bower will be making his West End debut playing the role of football coach Joe.
These two youngsters will be joined on stage by West End leading lady Lauren Samuels, who recently appeared in Grease and We Will Rock You. Samuels will play Jules, the part originally played by Keira Knightley in the feature film version.
Impressionist and Television panel show regular, Ronni Ancona will play Jules' mum Paula. Natasha Jayetileke and Tony Jayawardena will take on the roles of Mrs and Mr Bhamra, the long-suffering parents of Jess. Preeya Kalidas will play Jess's big sister Pinky, and Jamal Andreas will step into the shoes of best friend Tony.
Gurinder Chadha, the woman behind the original feature film of Bend It Like Beckham, directs. Music and lyrics are by Charles Hart and Howard Goodall. The musical adaptation is due to officially open on 25 June 2015, with previews starting from 15 May 2015.
The ensemble cast includes: Irvine Iqbal, Karl Seth, Sohm Kapila, Buckso Dhillon-Woolley, Rakesh Boury, Harveen Mann, Danielle Young, Sejal Keshwala, Serina Mathew, Sharan Phull, Kayleigh McKnight, Tom Millen, Daniel Bolton, Raj Bajaj, Michelle Bishop, Jorell Coiffic-Kamall, Chloe Chambers, Genesis Lynea, Kirstie Skivington, Rekha Sawhney, Shahid Khan and Lisa Bridge.
Bend It Like Beckham is booking through to 11 July 2015, for the time being…