The 39 Steps Review
by Oliver Mitford on Sunday 5 May 2013, 8:51 pm in London Theatre Reviews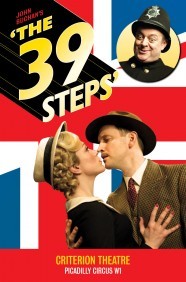 Adapted for the stage by Patrick Barlow from the 1915 novel by legendary adventure writer John Buchan and from the 1935 film by Alfred Hitchcock, The 39 Steps is a re-imagined comedy version of Hitchcock's classic spy thriller. This spoof on melodrama and parody of the 30s' thriller genre is hilarious from start to finish. Who knew that 'stiff-upper-lip' jokes and pencil moustaches could produce theatrical comedy gold? As gripping as it is funny, you might put this play in the same pile as other great comedies on the West End. That is, until you realise the cast is made up of just four utterly fearless actors, playing hundreds of character in just over a hundred minutes… Now that is something special.
This 'ripping yarn' is sent up right from the start, letting us all know that we are all 'in on it'. Square-jawed and overly well-spoken Richard Hannay, played with such charm and naivety by Adam Jackson, sets the scene from his Portland Place flat with the most British gentlemanly narration. From one ridiculous plot twist to the next Hannay finds himself caught up in the murder of a gloriously over-the-top version of a femme fatale, played with such relish by Jennifer Bryden. Hannay must journey to Scotland to foil an evil German spy and clear his name and maybe fall in love along the way.
As this tale unfolds, the cast of four move from location to location employing all manner of 'poor' or 'coarse' theatrical devices – from rickety old ladders for bridges, leather trunks for train carriages, to door-frames on wheels that become the entrance to building after building, and wobbly shadow puppets deployed for the big chase sequence. All of these devices, inventively realised by director Maria Aitken, are nothing without the skill and talents of the lighting and sound designers – Ian Scott and Mic Pool respectively. Each and every location is given an atmosphere that relates to the setting, whether that be a misty moor in the moonlight or a warm, cosy cottage. They suck an audience into a world and keep us there.
The talented cast made up of Jennifer Bryden, Adam Jackson, Stephen Critchlow and Andy Williams keep the mood of the production playful, whilst still roaring along at break-neck speed. You really are kept on the edge of your seat; a hard thing to do in a laugh-a-minute comedy, albeit a murder mystery one.
Critchlow and Williams both seamlessly shape-shift from role to role with such mischievous glee, that I challenge even the most humourless members of the public not to find themselves giggling along. There is something Monty Pythonesque about The 39 Steps – It's silly; it is, at times, quite absurd and the use of numerous exaggerated characters plays out almost like a long sketch. However, at the heart of it all is a thrilling story of espionage, murder and deceit. This raises the play from the trivial to the sublime.
With flawless stagecraft and a story told with as much joie de vivre as an actor can muster – a better night out just cannot be had.
30th April 2013, Criterion Theatre