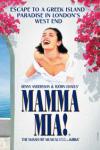 Mamma Mia has gone global. Everyone loves Abba. And timeless songs like 'Dancing Queen' and 'Take A Chance On Me' pull in huge numbers of show goers. It's an enchanting tale of love, laughter and friendship. And London's Novello Theatre is bursting at the seams every night as a result. Fantastic!
Booking from: Thursday, 6 September 2012
Booking until: Saturday, 5 April 2014
Matinees: Thursday and Saturday 3pm
Evenings: Monday to Saturday 7:45pm
Running time: 2 hours 20 minutes

Playing at the Novello Theatre.
Mamma Mia tickets – The best feel good show in town!
What can we say? You know the score. Mama Mia makes everyone feel good. Whether you're nine or ninety, male or female, from anywhere in the world, we all love Abba songs. And their international appeal means massive audiences are having the time of their lives, night after night.
Catherine Johnson's sunny, funny story of love, laughter and friendship has been thrilling London audiences for more than a decade now. But it was the film that brought it into the bit time. With its release Mamma Mia shot to the stars, fast becoming the biggest British hit movie of all time.
The story? Imagine a Greek paradise. On the eve of her wedding, a daughter's quest to discover her father brings three men from her mother's past to the island they last visited 20 years ago. And the tale unfolds from there, supported cleverly and imaginatively with Abba's greatest hits. Fall in love with 'Dancing Queen' all over again. Sing your heart out to 'Take A Chance On Me' and 'Super Trouper'. Shed a tear at 'Thank You For The Music' and love this enchanting tale of family and friendship!
More than forty million of us have seen the stage version of Mamma Mia so far. Proof that it hits us in a happy place! It's packed with energy and enthusiasm. It makes for a delightful evening enjoying the feel good factor. Book Mamma Mia tickets now for a lovely night out!
Mamma Mia! in the press
Infectious theatrical entertainment!
Financial Times
An irresistable enjoyable hit! Sheer heaven!
Daily Telegraph
A glorious evening of fun!
Daily Mail