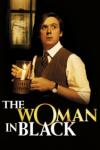 This is without a doubt one of the most exciting, gripping and successful theatre events ever staged. Two decades of success proves it. The Woman In Black is unanimously critically acclaimed. And this Stephen Mallatratt adaptation of Susan Hill's best-selling novel is playing at London's Fortune Theatre now!
Booking from: Thursday, 1 June 1989
Booking until: Saturday, 14 December 2013
Matinees: Thursday 3pm, Saturday 4pm
Evenings: Tuesday to Saturday 8pm
Running time: 2 hours

Playing at the Fortune Theatre.
The Woman in Black tickets – Seriously good spooky stuff!
If you're looking for a musical that seamlessly combines the power and intensity of live theatre with a cinematic quality inspired by the best in film noir, The Woman in Black will be right up your theatregoing street. And it's on at London's Fortune Theatre now.
More than seven million of us have enjoyed the thrills and chills of this extremely exciting, spooky and gripping live theatre event. And it has enjoyed continual, unanimous critical acclaim over the years. This is top quality theatre. Stephen Mallatratt's adaptation is powerful stuff. Perfect for grown ups who love an evening of full on, relentless drama. And thrive on being transported into a terrifying, ghostly world.
This is a thrilling and genuinely unnerving ghost story, a dark tale full of surprises and suspense. The acting is so good you feel you're personally involved with the story. The sets are incredibly clever. And the theatre itself – intimate and old - becomes eerier and creepier as the play thunders on!
If you're easily scared and prone to leaving the lights on all night after a ghost story, The Woman in Black might not be for you. There's something about the stage that makes the story even more involving, therefore frightening, than anything on TV or the big screen could ever achieve.
Book Woman in Black tickets now and scare yourself silly!
Please be advised that there is a large possibility of school groups being present at The Woman In Black, especially for Monday to Thursday performances.
The Woman in Black in the press
The most brilliantly effective spine chiller you will ever encounter. If you haven't seen this show yet you are missing a treat
The Daily Telegraph
A truly nerve-shredding experience
The Daily Mail
A marvellous exercise in spine tingling tension, spun from perfectly paced storytelling and stagecraft. it's a cracker.
The Independent
Don't go unless you like being scared out of your wits
Sunday Mirror