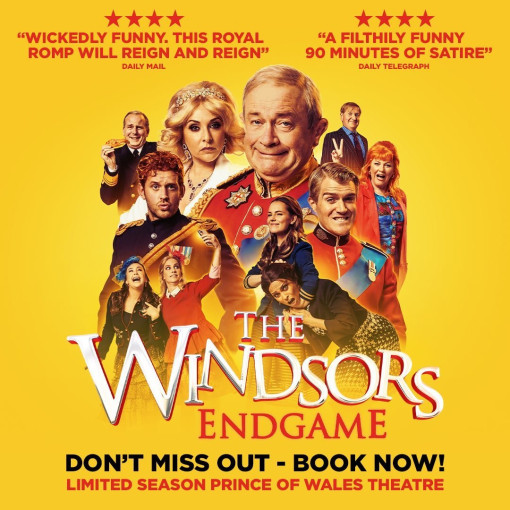 The Windsors: Endgame
4/5
based on 7 reviews
(read reviews)
Booking until: Monday, 11 October 2021
The Windsors: Endgame photos
The Windsors: Endgame description
The Windsors: Endgame – It's the royal family... but not as we know it
Did you watch the TV series, The Royals? If so you'll know the score. A bunch of highly talented comic actors brings the royal family to the stage in the most extraordinary way. This is the royal family, but not as we know it. They're quarrelsome, violent, rude, sometimes dim but always utterly hilarious. Welcome to Endgame, a dazzlingly funny story about the dodgy doings of those who rule us.
What's the story behind The Windsors: Endgame?
Inter-generational conflict is always entertaining when given a comic slant. But when it's a family we all know and either love or hate, the 'funny' gets even better. Welcome to the British royal family. Here's Prince William – AKA Wills - challenging Prince Charles for the throne. Charles' wife Camilla, a horribly evil character, isn't going to give up without a fight. Wills, who needs Harry and Meghan's help, has to convince his brother and sister in law to return from their new home in California. And will princesses Beatrice and Eugenie ever manage to clear their darling daddy Prince Andrew's name? What a brilliant plot, and what top class comedy acting.
About The Windsors: Endgame
Endgame stars the legendary Harry Enfield, along with brilliant roles played by Kara Tointon, Tracy-Ann Oberman and many more of the stars of the Channel 4 TV series. The fun takes place at the West End's Prince of Wales theatre and we guarantee you'll leave with a massive grin on your face. What an excellent antidote to the lockdown, studded with songs, sword fights and snogging contests. The writers are the same geniuses that created the TV series, George Jeffrie and Bert Tyler-Moore, and the show is directed by Michael Fentiman.
Buy tickets for The Windsors
Buy tickets for The Windsors with us and you'll find the whole thing nice and easy. We'll email your e-tickets conveniently to you, for you to present at the door on the day. We hope you enjoy the madness!
Starring
Harry Enfield, Kara Tointon, Tracy-Ann Oberman
Playing at Prince of Wales Theatre
31 Coventry Street, London, W1D 6AS GB (venue info)
Directions
Performance Times
The Windsors: Endgame cheap tickets
Save 35%
Was £53.75 Now £35.00
SAVE £35 ON TICKETS £66 now £35 Valid Tuesday to Friday and Sunday performances 1 September - 8 October 2021 Book by 30 September 2021
The Windsors: Endgame news
Cast announcement THE WINDSORS: ENDGAME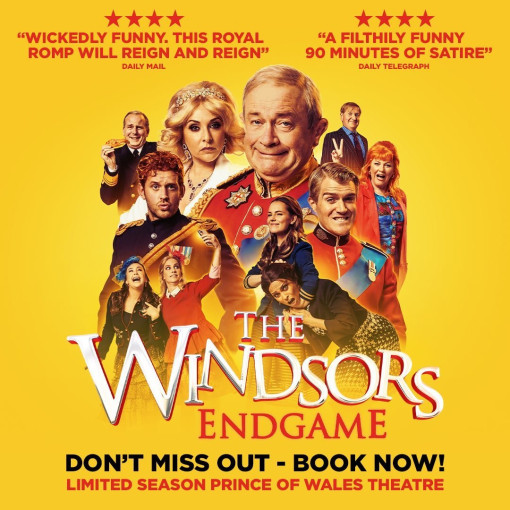 24

Jun
Cast announcement THE WINDSORS: ENDGAME
Harry Enfields stars as Pricne CHarles in THE WINDSORS: ENDGAME in the West End this August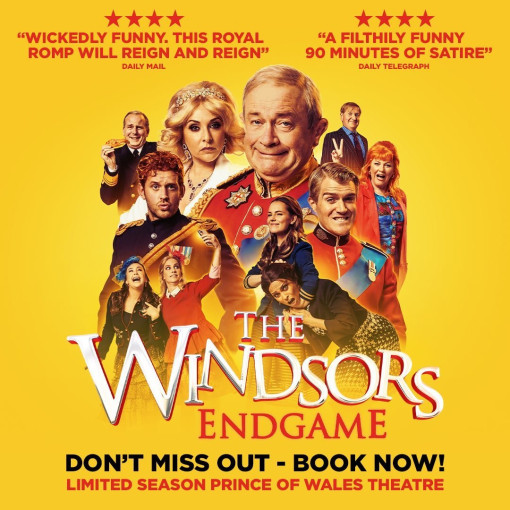 09

Jun
Harry Enfields stars as Pricne CHarles in THE WINDSORS: ENDGAME in the West End this August