63% off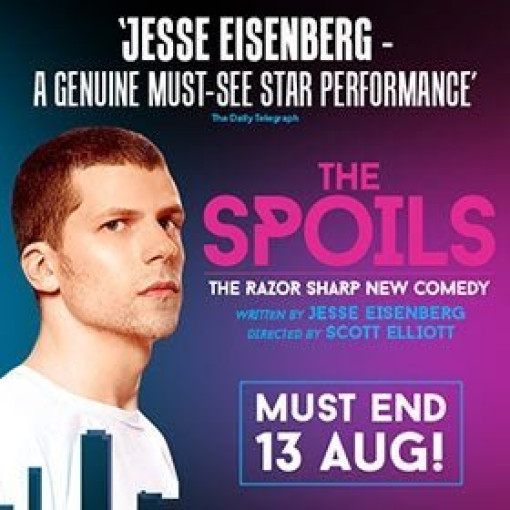 The Spoils
4.2/5
based on 9 reviews
(read reviews)
Booking until: Wednesday, 10 August 2016
The Spoils description
Ben, the lead character played by Jesse Eisenberg, is rich. He has that infuriating sense of entitlement that some wealthy people develop. And he's horribly narcissistic. He has been thrown out of grad school. He relies on his family for money. He bullies everyone he comes across, including his mild-mannered and earnest Nepalese room mate Kalyan, played by The Big Bang Theory's hilarious Kunal Nayyar. As you can imagine, it is not exactly a winning combination. Nobody likes Ben. He even dislikes himself.
Ben's softer side emerges when he thinks about the girl he's always had a crush on. But even his soft side is awful – when he realises she's about to marry someone else, a banker, his mission is clear: to destroy their relationship and win her back. The resulting story of five young people in New York is a highly personal, moving and fascinating one, with a very funny core.
The New Group, in association with Lisa Matlin, presents the play, which has already gathered plenty of critical acclaim. It scored a big off-Broadway hit. The New York Times calls it, "Engrossingly acted and impeccably staged." Time Out awards it four coveted stars, saying "The cast of Scott Elliott's razor-sharp production is stellar." The New York Post calls it a "triumph" and the Huffington Post adds their voice, saying, "Eisenberg has created an intriguing and provocatively emotional group of characters. The New Group strives to present theater that is 'adventurous, stimulating and now' and The Spoils fits their creed quite nicely."
What does the actor and playwright think? According to an interview in The Guardian, he said, "I do several different things and theatre acting is by far the most taxing, exhausting and nerve-wracking. I suppose it's the most rewarding experience, although sometimes the rewards feel overwhelmed by how emotionally and physically taxing it is."
In his Guardian interview the actor-playwright confessed he was, "thrilled, honoured and nervous" to be in the West End. He shouldn't be. By all accounts it's a winner, praised by the New York Times for being "engrossingly acted, impeccably staged". If you love cringe humour, you'll adore this.
If you've ever had a toxic 'friend' like Ben, or know someone else who does, you'll recognise the score. He's horrible, but he feels alienated from his social group, which makes him lash out. At the end of the play you'll either despise him or find sympathy in your heart of hearts for someone so totally incapable of being a decent human being! Either way it's hugely entertaining.
The Spoils tickets – Unforgettable wordplay, classic cringe humour
Are you searching for The Spoils cheap tickets? If so we provide every kind of seat, from cheap to the best in the house, all with great availability.
Starring
Jesse Eisenberg, Kunal Nayyar
Playing at Trafalgar Studios (One)
14 Whitehall, London, SW1A 2DY (venue info)
Directions
The Spoils photos
The Spoils cheap tickets
Save 63%
Was £80.00 Now £29.50
Valid on Thursday matinee performances until 11 August 2016.
Save 18%
Was £85.00 Now £70.00
Valid on Friday and Saturday performances between 1 August and 13 August.
Save 19%
Was £80.00 Now £65.00
Valid on Monday - Thursday performances between 1 August and 13 August 2016.
Important information
Kunal Nayyar will not be appearing in performances from 1st to 13th August.
Performance Times
The Spoils news
Top London Shows - June 2016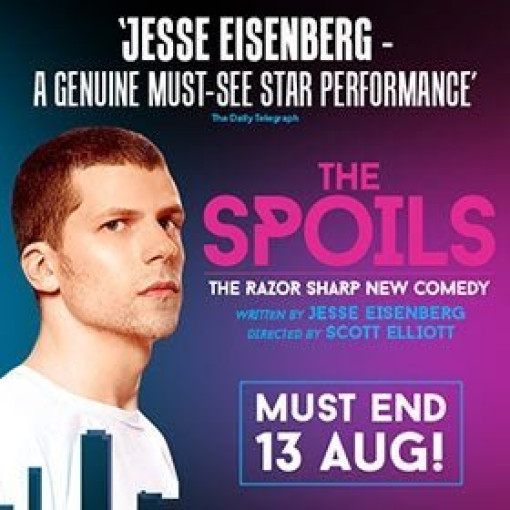 02

Jun
Top London Shows - June 2016