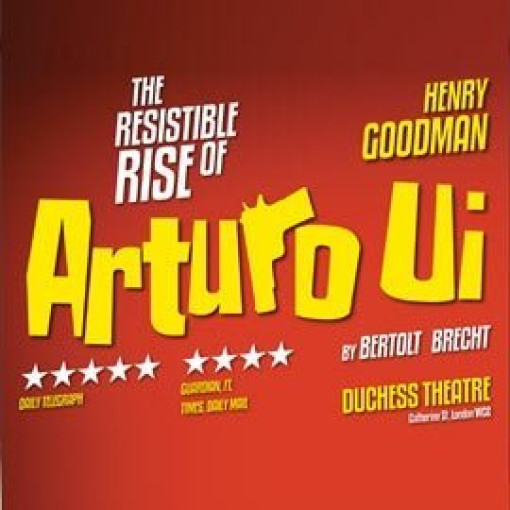 The Resistible Rise of Arturo Ui
4.6/5
based on 17 reviews
(read reviews)
Booking until: Saturday, 7 December 2013
Running time: 2 hours 50 minutes
The Resistible Rise of Arturo Ui description
The Resistible Rise of Arturo Ui tickets – Funny, sharp, thrilling
Arturo Ui was written by Brecht in a three week period during 1941 while he was exiled in Helsinki, waiting for his US visa to come through. Intended for the US market, it didn't appear on stage until seventeen years later, in 1958, and wasn't produced in English until 1961.
The character Arturo Ui's antics parallel those of Hitler as he rose to power, funny and acerbic, witty and sharp. The scene? It's Chicago in the 1930s and the Great Depression has led to chronic unemployment, starvation, dislocation and corruption. It's the ideal political and social landscape for small-scale organised crime to flourish… and even achieve absolute power.
Arturo Ui and his nasty mob of gangsters are busy running profitable protection rackets. Before long Ui is the name on everyone's lips, spreading fear across the city's businesses, markets and docks. For the moment, he seems unstoppable.
If you enjoy top class satire, you'll adore this intelligent allegory paralleling the rise and rise of Nazi Germany's thoroughly un-charismatic leader, Adolf Hitler. Every character in the play has a real-life counterpart. Ui represents Hitler himself, His close partner in crime Ernesto Roma represents Ernst Röhm, the Emanuele Giri character is uncannily similar to the horrible Hermann Göring, and the ghastly Giuseppe Givola was created with the arch criminal Joseph Goebbels in mind.
Every scene represents a genuine historical event, too. There's the warehouse fire, paralleling the dreadful fire at the Reichstag. And the famous Dock Aid Scandal, Brecht's witty take on the East Aid scandal.
In the words of The Daily Telegraph, which awarded the production five stars, "You simply can't take your eyes off Goodman… He is horribly, hypnotically watchable." The Guardian gives the play four stars, calling it "Jonathan Church's breath-taking revival" The Sunday Express praises the actors' "breathtaking performances" and awards the play five stars. And the lead actor's performance also scores high with Whatsonstage, who praise "Henry Goodman's stellar performance".
It's clever. It's provocative. And it mirrors the story of Hitler's shocking rise to power in a way that's as entertaining as it is satirical. Welcome to the notorious world of the cauliflower racketeers!
If you'd like to treat yourself to The Resistible Rise of Arturo Ui cheap tickets, we provide low cost tickets to premium seating and everything in between, all with excellent availability.
Playing at Duchess Theatre
3-5 Catherine Street, London, WC2B 5LA (venue info)
Directions
The Resistible Rise of Arturo Ui photos
Age restrictions
Ages 14+
Performance Times
The Resistible Rise of Arturo Ui news
The Resistible Rise of Arturo Ui Review
24

Sep
The Resistible Rise of Arturo Ui Review