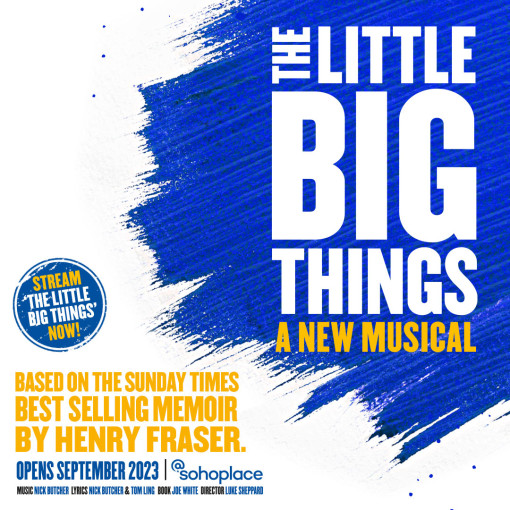 The Little Big Things
5/5
based on 7 reviews
(read reviews)
Booking until: Saturday, 2 March 2024
Running time: 2h 20m (incl. interval)
The Little Big Things photos
The Little Big Things description
The Little Big Things – Based on a real-life autobiography
You want something a bit different? Try this, an extraordinary true story about an ordinary young man. When Henry has an accident and his spinal cord is crushed he's left in a wheelchair, paralysed from the shoulders down. The moment of the accident changed everything – so how does he cope? As Henry learns to handle the new world he finds himself in, will he work out a way to take control? And can he stop his family from falling apart?
The musical is inspired by the Sunday Times best-selling autobiography by Henry Fraser himself. The result is a fresh new British musical with an 'explosive' theatrical pop soundtrack, and this is the world premiere production. Billed as 'uplifting and colourful', it's a real life-affirming story of courage and transformation. It also serves as a reminder to us all that the little things in life really do matter the most.
The Set Design is by Colin Richmond and the Choreography by Mark Smith. Costume Design comes from Fay Fullerton, Video Design by Luke Halls, Lighting Design by Howard Hudson, Sound Design by Paul Gatehouse, and the Musical Supervisor is Matthew Brind. The Musical Director is Laura Bangay, the Dramaturg/Associate Director is Nickie Miles-Wildin, and the Casting Director is Jill Green CDG.
The show features music by Nick Butcher, lyrics by Nick Butcher and Tom Ling, and a Book by Joe White. Luke Sheppard directs fresh from an Olivier Award winning and Tony nominated production of & Juliet, and his awesome Fringe-to-West-End hit, My Son's a Queer. No wonder cheap tickets for The Little Big Things are predicted to be hot property.
What's the story behind The Little Big Things?
The Little Big Things theatre tickets whisks us to a show that's enjoyed several workshops in recent years, organised by producer Michael Harrison, directed by Luke Sheppard, and featuring stars like Ben Joyce who delighted us in Back To The Future. Michael Harrison and Nica Burns are the producers. As Nica Burns said in a press statement, "The Little Big Things, our first musical and a world premiere, is our fifth and final production to open in our first year @sohoplace. A big thank you to brilliant musicals producer Michael Harrison for bringing us this exciting project, authored by a new British musical theatre writing team and with an actor who is a wheelchair user at its heart."
Henry Fraser also has something to say about the musical that reflects his life and success so beautifully: "There have been many things that have happened since my accident that I never thought about in life, never planned and really surprised me, in a great way. This musical is one of those moments. The guys have been great to work with and the moment they played me a couple of songs I was sold. I still can't believe it's actually happening and it makes me incredibly excited and nervous."
About The Little Big Things
The Little Big Things is an uplifting new musical painting an extraordinary picture of resilience and personal growth. It looks like the small, seemingly insignificant moments hold the greatest significance for us, and it's lovely to be reminded of the fact in such a memorable way.
The 'explosive theatrical pop soundtrack' features Ed Larkin, who stars as the older Henry Fraser, while Jonny Amies plays the young Henry. The result is an unforgettable tale of an everyday young man's extraordinary journey, and it'll touch you deeply in a happy way.
Buy tickets for The Little Big Things
Buy tickets for The Little Big Things from us and enjoy simple, efficient service. We'll email your e-tickets to you – just present them at the door on the day.
Playing at Soho Place Theatre (@sohoplace)
2 Soho Place, London, WC2H 8LS GB (venue info)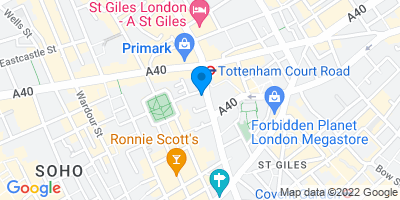 Directions
Important information
Please note: this production contains flashing lights, haze, loud noises and some strong language.
Performance Times
The Little Big Things video
The Little Big Things news
Full Cast Announced for The Little Big Things @sohoplace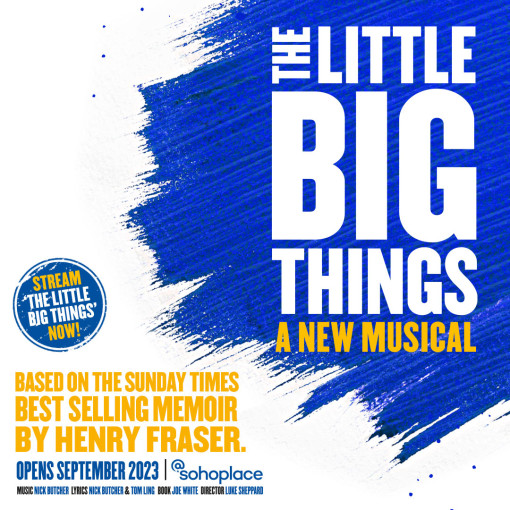 07

Jul
Full Cast Announced for The Little Big Things @sohoplace