No booking fee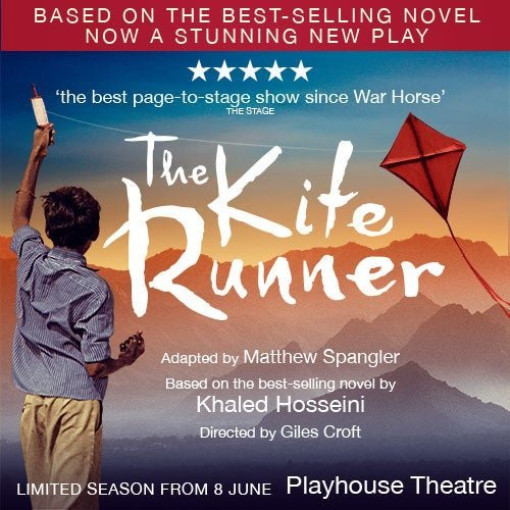 The Kite Runner
4.6/5
based on 48 reviews
(read reviews)
Booking until: Saturday, 26 August 2017
Running time: 2 hours 40 minutes
The Kite Runner description
Khaled Hosseini's marvellous book was published in 2003 by Riverhead Books. It was a slow burner at first, only becoming a bestseller after being printed in paperback then brought to the attention of the reading public by a number of respected book clubs. The rest is history.
The novel sat at number one in the New York Times bestseller list for more than two years, an incredible feat, and sold more than 7 million copies in the USA. In Afghanistan it caused controversy, but elsewhere it gathered a growing storm of excellent reviews. In 2007 a movie of the same name was filmed, and there's also a graphic novel based on the book. There have been several stage performances over the years, and now it has made its way to London's West End, a well-deserved honour for an exceptional author.
What's the plot? Kite Runner reveals the story of Amir, a boy from the wealthy Wazir Akbar Khan district of Kabul, Afghanistan. He's best friends with Hassan, his dad's Hazara servant. When violence and tragedy ruins the friends' relationship, Amir is almost destroyed by guilt and regret. More than twenty years later, he redeems himself by saving his old friend Hassam's son.
Like the novel, the play is narrated by Amir, who is obsessed with the childhood mistake he never managed to atone for (there are shades of the book and film Atonement here). Amir never forgot his own cowardice, and his desperate need to please his father, both of which made him abandon Hassan to the vicious attack.
Amir's thrilling and dangerous journey, many years later, from the USA back to war-torn Afghanistan, takes place on the brink of the American invasion of Taliban-controlled Kabul. The backdrop is just as disturbing as the action, a place of fear and betrayal. Afghanistan is in turmoil after the country's monarchy fell, thanks to Russian military intervention. There's an ongoing exodus of refugees making their way to Pakistan and the USA, and the crazy, ultra-violent and intolerant Taliban regime is on the rise.
Hosseini himself says his book is, at heart, a father and son story. It's both disturbing and heart warming, distressing and healing. The play was originally adapted for the stage by Matthew Spangler and premiered at San Jose Repertory Theatre in 2009, and it's predicted to be a massive sell-out in theatreland.
The Kite Runner tickets – Beautifully sad with a happy ending
If you'd like to buy The Kite Runner cheap tickets we sell every type of ticket, from bargain to top of the range, all with excellent availability.
Playing at Playhouse Theatre
Northumberland Avenue, London, WC2N 5DE GB (venue info)
Directions
The Kite Runner photos
The Kite Runner cheap tickets
Save 1%
Was £17.00 Now £16.75
Valid on all performances until 26 August 2017.
Performance Times