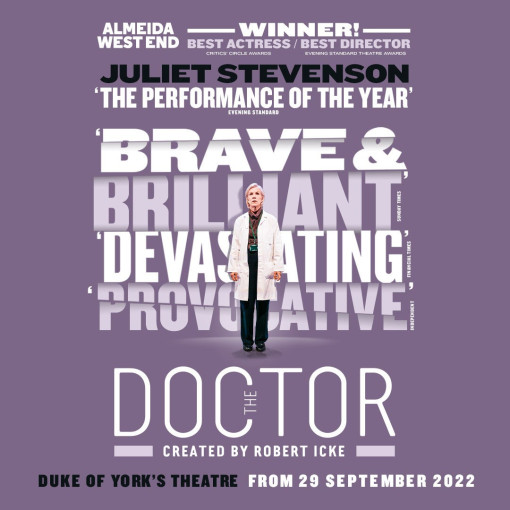 The Doctor
Opens: Thursday, 29 September 2022

-


Booking until: Sunday, 11 December 2022
Running time: 2 Hours and 45 Minutes
The Doctor photos
The Doctor description
The Doctor – Dazzlingly good theatre
First, do no harm. That's who doctors are. They do no harm. But one ordinary day at a private hospital, while a tragic young woman fights for her life after a botched abortion, a priest arrives to 'save her soul' and the doctor refuses to let him in. She wants her patient to die peacefully, not knowing that she's dying. But the priest wants to rouse her, give her the last sacrament, and save her soul.
It's a story of division that taps directly into today's divisive times, in our poor divided nation, a place where we are often forced to take sides. This is the latest masterpiece from what many experts call 'Britain's best director', and it's "provocative, wonderfully upsetting" (Independent). The Guardian called it a whirlwind of gender, race and identity politics, one of the peaks of the theatrical year, and the FT calls it a 'devastasting play for today'. Welcome to The Doctor.
In Icke's contemporary version of a play that dates back to 1912, the doctor is female doctor. The original was male. Icke also plays with the other characters to brilliantly disturbing effect: white actors play black characters, women play men, and some roles are gender-unspecific.
The Doctor, Ruth Wolff, is portrayed by Juliet Stevenson with wit and plenty of the kind of disdain you often see when believers encounter non-believers. The accusations hurled at her throughout the play are spiced up by latent anti-semitism, gender politics and identity politics, and it feels a lot like what's going on today, in our sadly-divided world.
The set by Hildegard Bechtler, the award-winning German costume and set designer, features a large round table around which the protagonists huddle to present their endless accusations and counter accusations, but if you're hoping for a clear conclusion to the matter, even a clear argument, you won't get one. It's intentional. Real life isn't neat and tidy and easily resolved with a happy ending. Nor is this play. And that's one of the many things that makes it sheer theatre magic. When both sides are seemingly equally right and at the same time equally wrong, the results are electric.
Many people find this play a deeply uncomfortable experience, and that's exactly how it was intended. It's also funny in a dark way. And Juliet Stevenson, already an extraordinary talent, has pulled something even more special than usual out of the hat this time. You'll be astonished as she transforms from a confident person in charge of her world to a haunted and tragic shadow of her former self. Expect breathtaking and you won't be disappointed.
Starring
Juliet Stevenson
Playing at Duke of York's Theatre
104 St Martin's Lane, London, WC2N 4BG GB (venue info)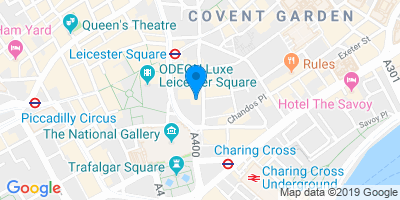 Directions
Age restrictions
Suitable for ages 14+
Important information
The Doctor includes the discussion of suicide and the description of suicide methods, with an age recommendation of 14+.
Performance Times
The Doctor news
Full Cast Announced for THE DOCTOR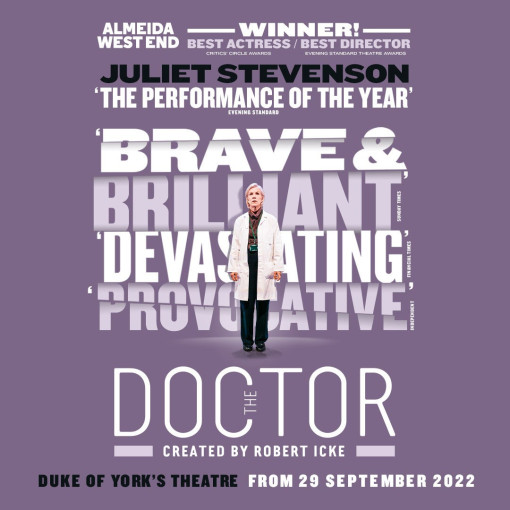 11

Aug
Full Cast Announced for THE DOCTOR
THE DOCTOR starring Juliet Stevenson tours before a West End run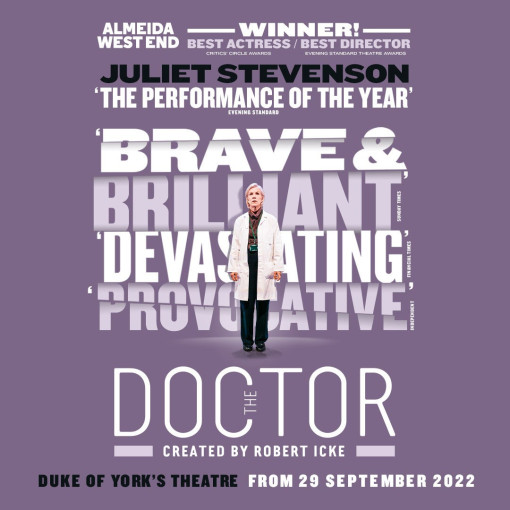 06

Apr
THE DOCTOR starring Juliet Stevenson tours before a West End run