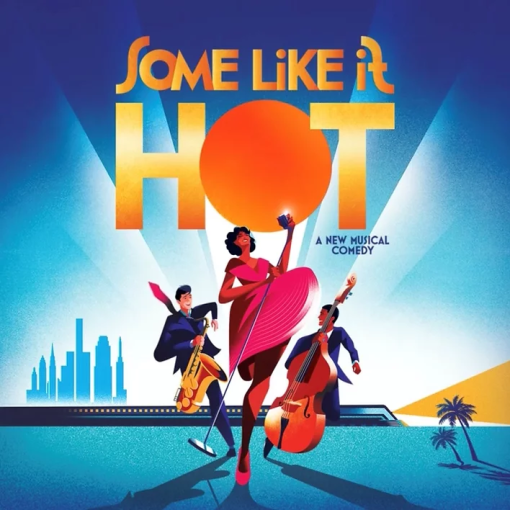 Some Like It Hot description
Some Like It Hot – Fresh from Broadway
Have you seen the classic comedy movie starring Marilyn Monroe, Jack Lemmon and Tony Curtis? It's just as hilarious now as it was back in 1959. The Broadway adaptation has proved a big hit too, on stage at the Shubert Theatre on Broadway for over a year and more than 480 performances. Now it's due for a UK tour followed by a stint in the West End.
The Broadway version won four Tony Awards for Best Lead Actor in a Musical (J Harrison Ghee), Best Choreography (Casey Nicholaw), Best Orchestrations (Charlie Rosen and Bryan Carter) and Best Costumes in a Musical (Gregg Barnes). J Harrison Ghee made history as the first ever non-binary performer to win the Tony Award in their category, great news in itself and something extra to celebrate.
The venues, dates and casting are to be confirmed but we do know who's on the creative team: the sets are by Scott Pask, costumes by Gregg Barnes, lighting by Natasha Katz, sound by Brian Ronan, hair and wigs by Josh Marquette, makeup by Milagros Medina-Cerdiera, music supervision by Mary-Mitchell Campbell, musical direction by Darryl Archibald, dance arrangements by Glen Kelly, and orchestrations by Charlie Rosen and Bryan Carter. That's what we call a glittering team.
What's the story behind Some Like It Hot?
Some Like It Hot tickets whisk you to a musical based directly on the classic Billy Wilder film. The stage adaptation comes with a score by Marc Shaiman and Scott Wittman, and there's a book by Matthew López and Amber Ruffin.
The national UK tour will launch in September 2024 followed by a West End production in 2025, produced by the Shubert Organization and Neil Meron in partnership with Ambassador Theatre Group.
About Some Like It Hot
This is the tale of two male musicians who witness a mob murder, then decide to dress as women and hide amongst an all-female band to dodge the criminals chasing them.
The year is 1929, the location is Prohibition-era Chicago. Joe is a saxophone player and ladies' man, his quieter friend Jerry plays double bass. The speakeasy they work in is owned by the gangster Spats Colombo. When the police raid the club Joe and Jerry escape, but accidentally see Spats and his henchmen shooting a rival gang in revenge.
Broke, scared and desperate to escape, Joe and Jerry disguise themselves as Josephine and Daphne, then join Sweet Sue and her Society Syncopators on the train to Miami – but the mob is on their heels.
Buy tickets for Some Like It Hot
Buy tickets for Some Like It Hot from us and enjoy simple, efficient service. We'll email your e-tickets to you – just present them at the door on the day.