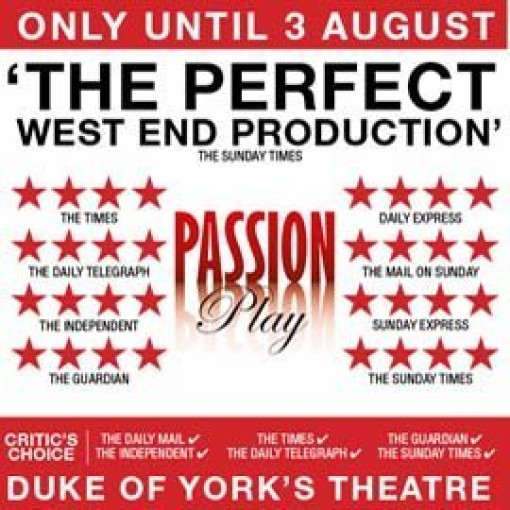 Passion Play
4.8/5
based on 24 reviews
(read reviews)
Booking until: Saturday, 3 August 2013
Passion Play description
Passion Play tickets – Enjoy rich, witty black comedy, created for adults
Perfect for adults who love their comedy rich, sharp and dark, Passion Play takes an intimate look into the living, breathing guts of a marriage… then stirs them into a dramatic, relationship- threatening crisis.
It's a familiar story, a timeless tale of betrayal and desire. From the outside they look like the perfect couple. They've been together for twenty five years. They've rubbed the sharp edges off one another and they feel comfortable. They're set to sail peacefully into an uneventful middle aged sunset. Then something happens and things start to unravel.
Meet art dealer James and Eleanor, his wife. Things are trundling along nicely until James falls madly and passionately in love with the couple's much younger friend, the recently-widowed Kate. Eleanor soon finds out and things go downhill fast. James tells Eleanor he's given Kate up but they still meet secretly. Lies breed yet more lies as the unhappy couple reveal their secret desires, dreams and inner feelings until their entire marriage is stripped bare.
Peter Nichols writes for the stage, film and television. He has created numerous popular stage hits including Nicholodeon, Lingua Franca, Blue Murder, A Piece of My Mind, Privates on Parade and many more well-loved stage shows for the West End and beyond. The director is the highly respected David Leveaux, the man behind Arcadia, Cyrano de Bergerac, The Glass Menagerie, Fiddler on the Roof and Nine on Broadway and much more besides. And the female star of the show, Zoe Wannamaker, has enjoyed a long and stellar career on TV, on stage and in the movies.
Expect a high class production and you won't be disappointed! Why not book your Passion Play cheap tickets now and enjoy a long-awaited revival of this wonderfully dark, very funny black comedy? We provide a wide choice of ticket and seat types for West End shows here on-site.
Starring
Zoe Wanamaker
Playing at Duke of York's Theatre
104 St Martin's Lane, London, WC2N 4BG GB (venue info)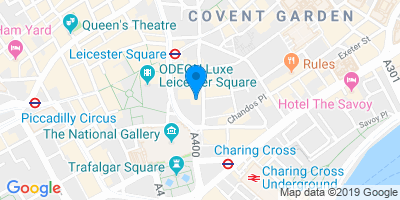 Directions
Important information
Contains adult themes.
Performance Times