47% off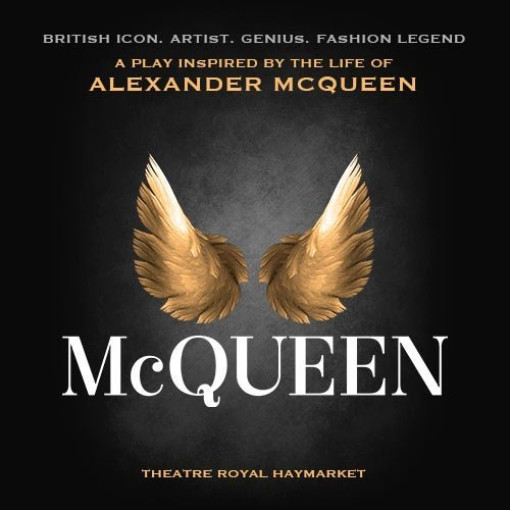 McQueen
4.5/5
based on 22 reviews
(read reviews)
Booking until: Saturday, 17 October 2015
McQueen description
The national press' critics have awarded this play all sorts of accolades. The Independent says "John Caird's production is suitably fabulous". The Sunday Times says it's "Powerful and memorable". The e Mail on Sunday calls it "Absolutely fabulous". And What'sOnStage calls it "Inventive and beautiful".
According to The Times "Christopher Marney's choreography is sensual and menacing. David Farley's design elegant and evocative. A fabulous performance from Stephen Wight". And the Evening Standard says "Stephen Wight captures the tormented genius of Alexander McQueen". The signs are looking good, and tickets are expected to be hot property.
The production stars the supremely talented Stephen Wight as Alexander McQueen himself in a play that has generated just as much acclaim from audiences. Now McQueen, transfers from the St James Theatre to the Theatre Royal Haymarket for a strictly limited season kicking off in August 2015.
What's the plot? It's very strange... and equally compelling. For the past eleven nights a strange woman has been hiding in a tree in Alexander McQueen's garden in Mayfair, one of London's poshest areas. She's been watching him carefully as he battles his inner demons in search of inspiration for his new collection.
On this particular night she leaves her hiding place and breaks into the house, stealing a dress so fabulous she could never hope to buy it under normal circumstances, desperate to become someone special. Her and the designer take to the London streets and together they enter the bewildering whirlwind of McQueen's social life.
The woman soon starts to unravel in front of the designer's eyes, making it clear that it takes much more than a dream of a frock to to make it through one of his extraordinary nights in one piece. But, together, the two troubled people might just live another day and find the comfort they're so desperate for.
In the words of the Alexander McQueen website, "Alexander's collections combine an in-depth working knowledge of bespoke British tailoring, the fine workmanship of the French Haute Couture atelier and the impeccable finish of Italian manufacturing." This play reveals the inner workings of the mind of a genius. The voyage is both beautiful and troubling, a haunting piece of theatre that whirls audiences into the inner recesses of McQueen's tortured mind.
The late Alexander McQueen was British fashion's greatest contemporary artist. And this is a fitting tribute to his extraordinary life, as imaginative as it is compelling.
McQueen tickets – A fantasy of a play delving deep into a troubled mind
If you'd like to buy McQueen cheap tickets we offer the full range of seating types, from low cost to premium, all with excellent availability.
Starring
Stephen Wight, Carly Bawden, Tracy-Ann Oberman, Laura Rees, Michael Bertenshaw
Playing at Theatre Royal Haymarket
8 Haymarket, London, SW1Y 4HT (venue info)
Directions
McQueen cheap tickets
Save 26%
Was £14.00 Now £10.00
Valid all performances between 11 September 2015 to 7 November 2015
Save 37%
Was £63.00 Now £39.50
Valid all performances between 11 September 2015 to 7 November 2015
Save 44%
Was £53.00 Now £29.50
Valid all performances between 11 September 2015 to 7 November 2015
Save 47%
Was £38.00 Now £20.00
Valid all performances between 11 September 2015 to 7 November 2015
Age restrictions
No under 16's. Contains strong language, adult themes and nudity.
Performance Times